University of Colorado Academic Building 1
Thursday, July 24th at 4 pm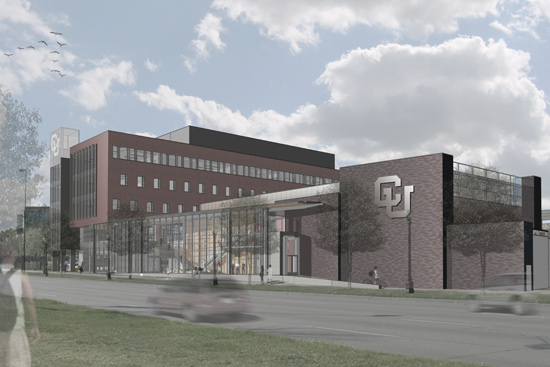 Rendering courtesy of AndersonMasonDale Architects 
Location: Speer Boulevard and Larimer Street, Denver
Owner: University of Colorado Denver
Architect: AndersonMasonDale Architects
General Contractor: Saunders Construction
The Denver Architectural Foundation is excited to announce our next hard hat tour!
When it is finished in August, 2014, this building will be a city and university landmark establishing a strong identity for CU Denver on Speer Boulevard. With indoor and outdoor public spaces that reinforce the concept of an "urban boulevard" shared by the campus and the city, the new Academic Building embodies the exciting developments at CU Denver, as they celebrate their 40th anniversary. The building will serve students, alumni, and support the community with:
A variety of classrooms, offices, large lecture halls and flexible dynamic academic space to meet our growing needs and create better educational experiences;
"One-stop-shop"  student services, including student affairs, admissions, disability and financial services; and
Indoor and outdoor public spaces to reinforce the  relationship of our campus with our downtown Denver neighbors both in terms of geography and partnerships.
The project team has received their Temporary Certificate of Occupancy, therefore PPE is not required.
Denver Architectural Foundation Members: $10
Non-members: $15
Non-member registration with one-year individual membership: $40
Non-member registration with one-year family membership: $75
Student Member $5
In order to better serve the needs of our members, Denver Architectural Foundation offers on-line registration for the event through the EventBrite registration system. Attendees can pay by credit card or by cash at the tour. However, we encourage you to use a credit card to speed the check-in process at the tour. Please use the EventBrite link above to register. Registration must be complete by Monday, July 21st at 5 pm.
Cancellation Policy: Refunds will be given only if cancellations are received before noon on Monday, July 21st.
Space is limited, so register now to ensure a place on the tour. Meeting logistics will be sent the day prior to the tour to those who are registered