DAF March Hard Hat Tour – EnV Denver Wednesday, March 11, 4:30 -6:00 p.m.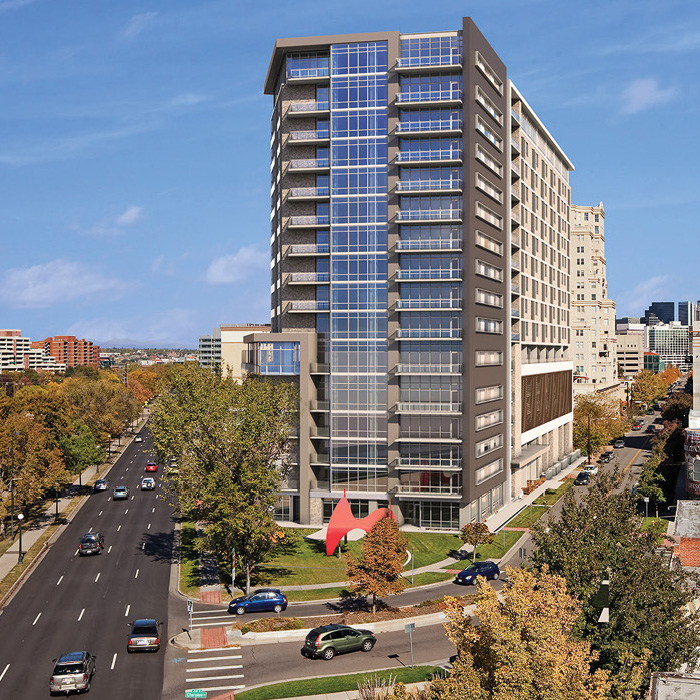 Location: 1000 Speer Boulevard Owner: Snavely Group and Lynd Architect: Page/ General Contractor: Milender White Construction Co.
The EnV Denver building, located at the intersection of Cherokee Street, 10th Avenue and Speer Boulevard, will mark a prominent gateway to Denver's Golden Triangle Arts District.
This 18-story residential tower will reflect a blend of clean modern design with traditional Denver architectural materials. Ground floor retail and the rich layers of pedestrian, public, and semi-private spaces around the street edge will help to activate the immediate streetscape.
EnV Denver, also known as 1000 Speer, will provide 270 for-rent apartments, ranging from efficient studios to larger three-bedroom units. It will also include townhouse style, live-work units with individual entries on Cherokee Street.
A parking garage, which will be screened from view from the exterior, will provide approximately 350 secure parking spaces on six levels. Direct access into lobby spaces from all levels of the garage will be provided for residents. Amenities planned for the project include a variety of lobby area spaces, a clubhouse lounge, lap pool, outdoor terrace, and a fitness center.
The project will include a small park to the south of the building, at the intersection of Speer and Cherokee. This area will be a public space, accessible to building residents as well as the public, and it will be enriched with public art, to express the unique character of the neighborhood.
Units will range in size from 485 square foot studios to more than 2,000 square foot three-bedrooms. The first residential units are expected to come online in July 2015, with final completion scheduled for September 2015.