Thursday, May 19th, 2016 from 4:30 – 6:00 pm
Get Free tickets on Eventbrite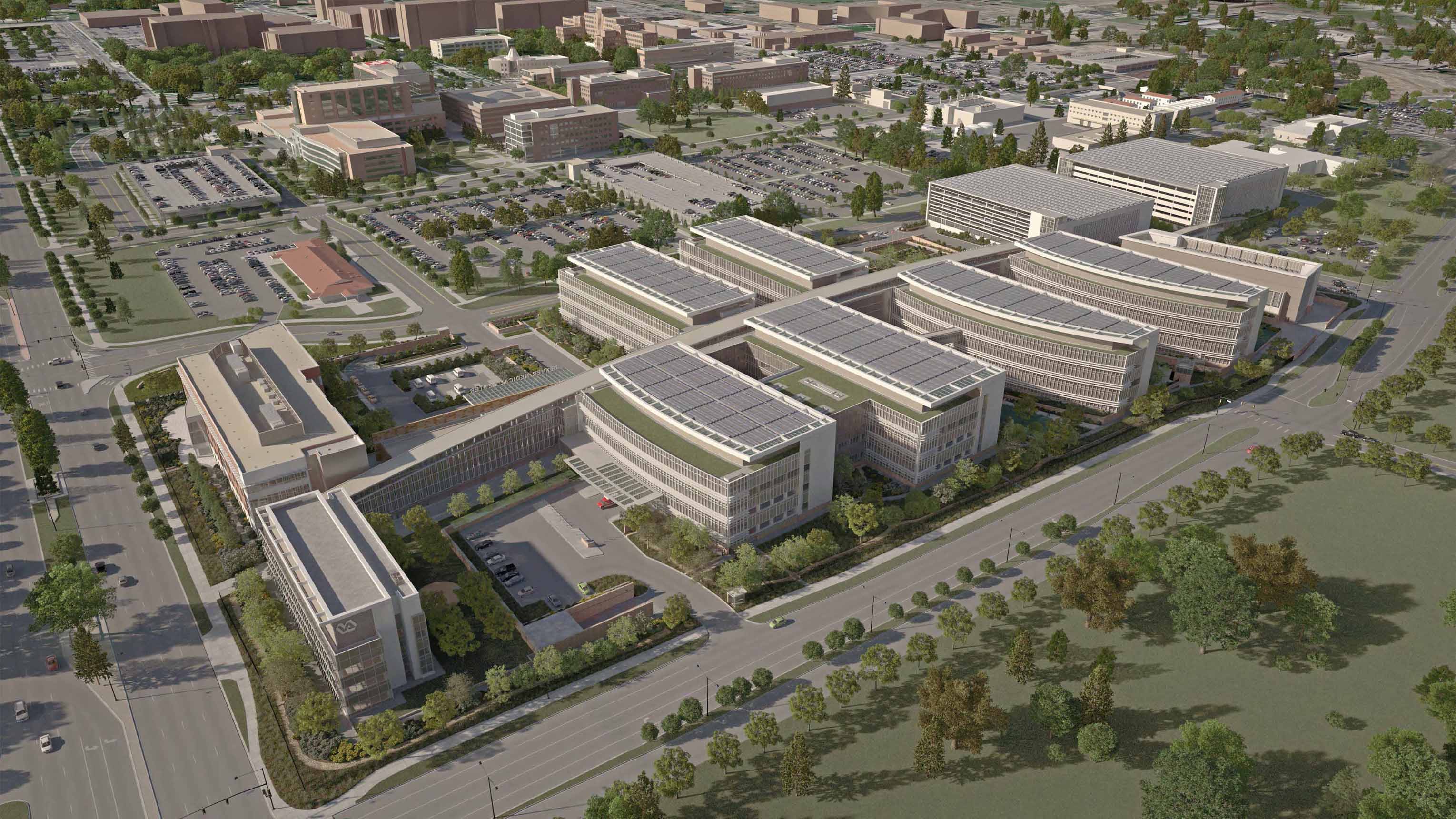 Rendering Courtesy of SOM

Building Owner: Department of Veterans Affairs
Architect: H+L/SOM/SAM a Joint Venture
Contractor: Kiewit /Turner (KT)
Location: Aurora, Colorado
Project Completion: 2018
Site Area: 31 acres
Project Area: 1,200,000 ft2
Budget: Approximately $1.7 billion
Number of Stories: 3
Building Height: 80 ft
Market: Civic + Government, Health + Science
Service: Architecture, Graphics + Branding, Interior Design, Sustainable Design, Urban Design + Planning
This new medical complex in Aurora, Colorado, will replace an aging facility and enable the federal agency to provide top-notch healthcare to the region's growing population of veterans. The 1.2-million-square-foot hospital consists of nine buildings, three parking structures, and a curved central concourse that connects them. All of the buildings will be approximately 80 feet high, with three levels and a below grade service level. Each level has an interstitial floor for mechanical systems distrubution.
The center will include diagnostic and treatment facilities, ambulatory care clinics, laboratories, and inpatient beds in acute care, critical care, mental health, rehabilitation, spinal cord injury, and long-term care. Sustainability is central to the project, which is targeting LEED® Silver certification. A notable feature will be the solar hot water concentrators, which will contribute to reduced energy costs.
This tour requires personnel protective equipment (PPE) for construction sites (hard hat, safety glasses, safety vest and gloves).  If you don't have your own PPE, you may purchase DAF hard hats, vests and safety glasses through the event registration page. A limited amount of loaner PPE will be available at the event.
In addition, attendees must adhere to the following protocol:
•    NO PICTURES OR VOICE RECORDING will be allowed
•    Closed-toe sturdy shoes – tennis shoes, high heels, sandals, flip flops and fashion boots are not acceptable footwear for the construction site.Boots do not have to be steel toe; they can be hiking boots as long as they are durable and at least ankle high.
•    Full-length pants or jeans (no shorts, capri pants, skirts or dresses) – Pants do not have to be jeans but they must be long enough to touch the top of your shoes.
•    Shirts with minimum 4″ sleeves
The cost of the tour is as follows:
Denver Architectural Foundation Members: $15
Non-members: $20
Student Member: $10
Non-member One-year DAF Individual Foundation Membership: $40
Non-member One-year DAF Family Foundation Membership: $75
PPE Set (Hard Hat, Safety Glasses, Safety Vest):  $35
Please use the EventBrite link above to register. Registration must be complete by Wednesday, May 18th at 5 p.m.
Cancellation Policy: Refunds will be given only if cancellations are received before noon on Wednesday, May 18th.
Space is limited, so register now to ensure a place on the tour. Meeting logistics will be sent the day prior to the tour to those who are registered.