Charles Schwab Campus Wednesday, May 7th, at 5:00 pm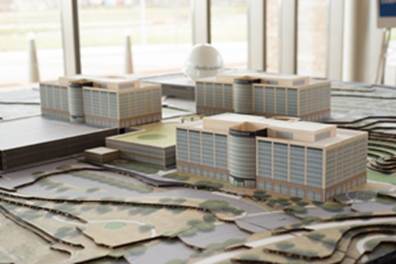 Photo of model courtesy of Fentress Architects 
Location: I-25 and Lincoln Avenue, Lone Tree, CO
Owner/Developer: Charles Schwab
Architect: Fentress Architects
Contractor: Mortenson Construction
The Denver Architectural Foundation is excited to announce our next hard hat tour!
Charles Schwab's 1,800 Denver-area employees, now divided among three separate buildings, are anxiously waiting move-in day at the under-construction Lone Tree campus. The Schwab real estate team is packing a lot into the new campus including two five-story office buildings, a separate two-story retail branch building, and an amenity building with a café and training areas. All of the buildings are designed to be environmentally friendly and to fit within the Rocky Mountain landscape.
If possible, please bring your own PPE (hard hat, safety vest, safety glasses). If you don't have your own PPE, a limited number of loaner hard hats, vests and safety glasses will be available. In addition, attendees must adhere to the following protocol:
Closed-toe sturdy shoes – tennis shoes, high heels, sandals, flip flops and fashion boots are not acceptable footwear for the construction site.Boots do not have to be steel toe; they can be hiking boots as long as they are durable and at least ankle high.
Full-length pants or jeans (no shorts, capri pants, skirts or dresses) – Pants do not have to be jeans but they must be long enough to touch the top of your shoes.
Shirts with minimum 4″ sleeves
The cost of the tour is as follows. For information on membership, please visit www.denverarchitecture.org.
Denver Architectural Foundation Members: $10
Non-members: $15
Non-member registration with one-year individual membership: $40
Student Member $5
In order to better serve the needs of our members, Denver Architectural Foundation offers on-line registration for the event through the EventBrite registration system. Attendees can pay by credit card or by cash at the tour. However, we encourage you to use a credit card to speed the check-in process at the tour. Please use the EventBrite link above to register. Registration must be complete by Friday, May 2nd at 5 pm.
Cancellation Policy: Refunds will be given only if cancellations are received before noon on Monday, May 5th.
Space is limited, so register now to ensure a place on the tour. Meeting logistics will be sent the day prior to the tour to those who are registered.