DAF November Hard Hat Tour – Centric
Thursday, November 17th, 2016 from 4:30 p.m. – 6:00 p.m.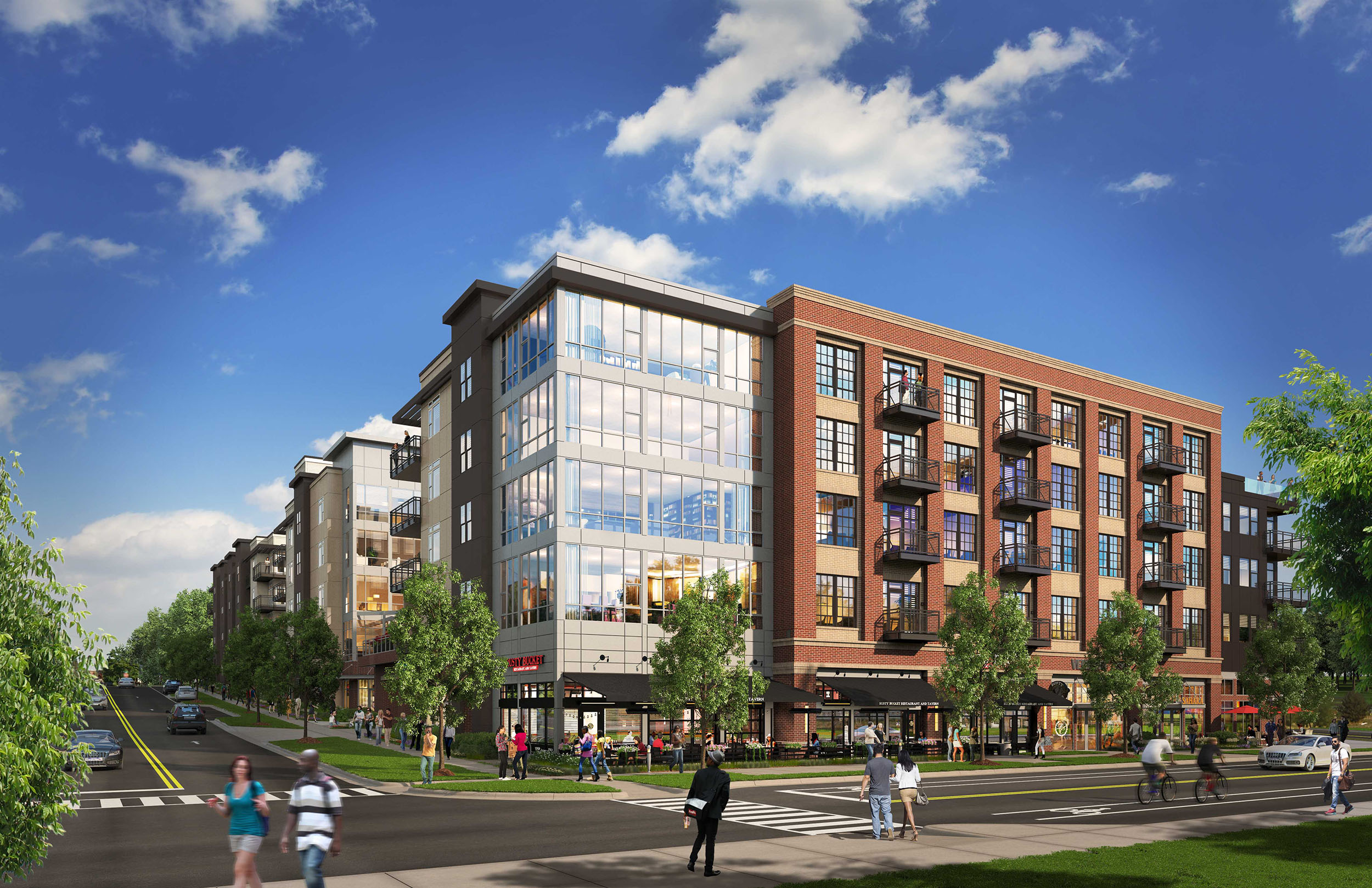 Rendering Courtesy of Southern Land Company
Building Owner: Southern Land Company
Architect: EVstudio
Contractor: SLC Commercial Construction, LLC
Centric LoHi marks Southern Land Company's first development in the Denver market. This project, in the in-demand Lower Highlands (LoHi) neighborhood, just outside of downtown, will be ideal for educated young professionals and families seeking a lifestyle full of amenities – both on-site and nearby. Upgraded community benefits will include a resort-style pool and rooftop deck areas. Upon completion, the project will provide unobstructed views of downtown Denver's skyline, Commons Park, Platte River, surrounding mountain ranges and all three of Denver's professional sports venues. Residents will also enjoy walkable access to dozens of high profile retail and restaurant destinations.
The community is expected to offer 302 apartments over two buildings, as well as 9,300 SF of ground floor retail space. Residents will also have access to secure, below-grade structured parking for 332 cars and bicycle storage. An additional 20 surface parking spaces will be located on the adjacent 0.11 acre parcel offering convenient retail and restaurant parking.
Please bring your own PPE (hard hat, safety vest, safety glasses). If you don't have your own PPE, you may purchase DAF hard hats, vests and safety glasses.  If needed, a very limited number of loaner PPE sets will be available at the site. In addition, attendees must adhere to the following protocol:
Closed-toe sturdy shoes – tennis shoes, high heels, sandals, flip flops and fashion boots are not acceptable footwear for the construction site. Boots do not have to be steel toe; they can be hiking boots as long as they are durable and at least ankle high.
Full-length pants or jeans (no shorts, capri pants, skirts or dresses) – Pants do not have to be jeans but they must be long enough to touch the top of your shoes.
Shirts with minimum 4″ sleeves
The cost of the tour is as follows:
Denver Architectural Foundation Members: $15
Non-members: $20
Student Member: $10
Non-member with One-year DAF Individual Foundation Membership: $40
Non-member with One-year DAF Family Foundation Membership: $75
Please use the Eventbrite link above to register. Registration must be complete by Tuesday, November 15th at 5 pm.
Cancellation Policy: Refunds will be given only if cancellations are received before noon on Wednesday, November 16th.
Space is limited, so register now to ensure a place on the tour. Meeting logistics will be sent the day prior to the tour to those who are registered.