Commuter Rail Maintenance Facility October 14th, 4:00 pm – 5:30 pm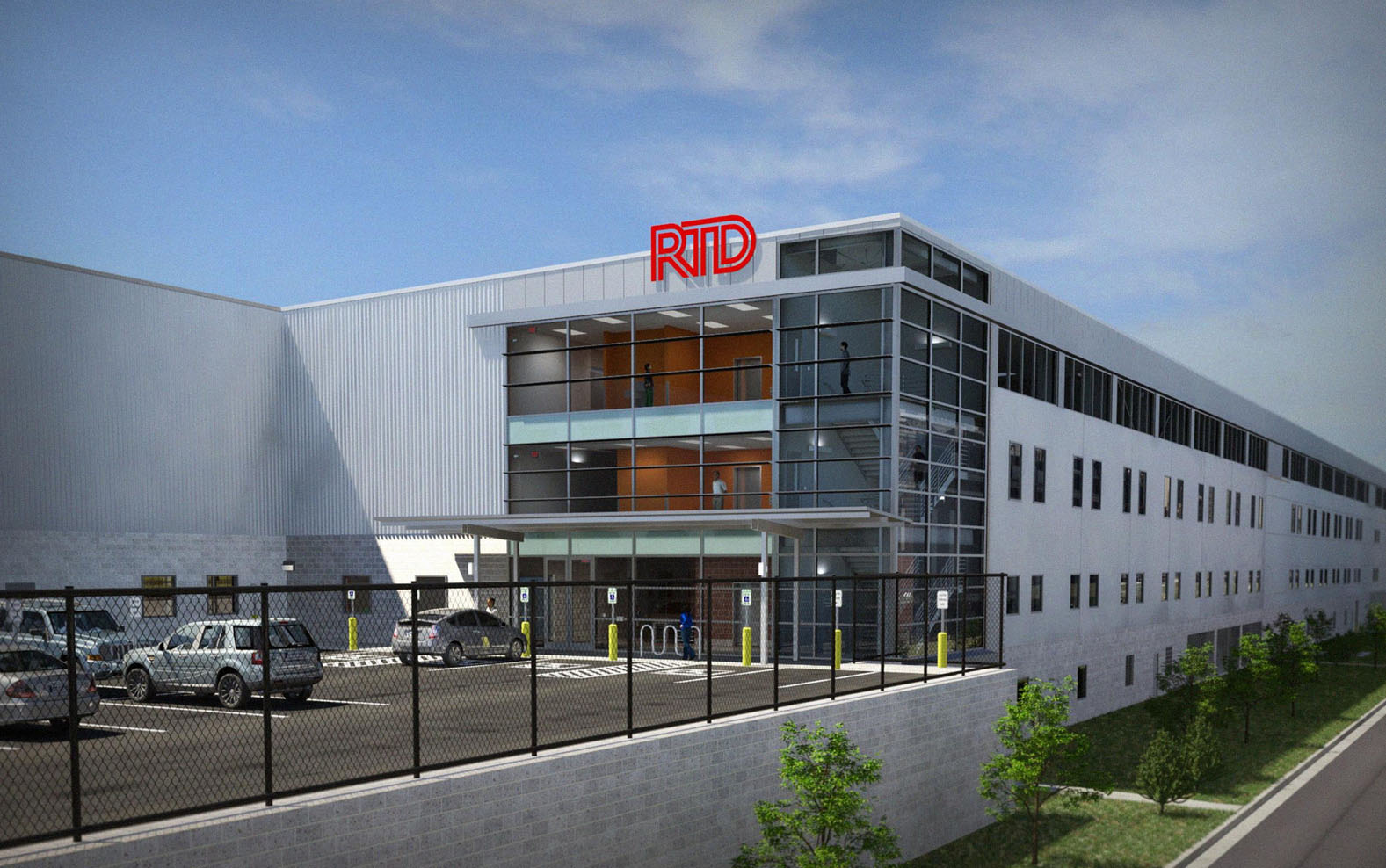 Courtesy of Gannett Fleming

Owner: Regional Transportation District
Architect: Gannett Fleming
Contractor: PCL Construction
The Commuter Rail Maintenance Facility (CRMF) is used to repair, maintain, clean and store the vehicles that will serve the four FasTracks commuter rail corridors: Gold Line, East Corridor, Northwest Rail and North Metro.
The $224 million facility will be home to all of the Regional Transportation District's (RTD) new commuter rail vehicles. About 240 operators, mechanics, technicians and other employees will run, clean, repair and store the vehicles at the CRMF. The building is designed to meet LEED 3.0 standards, which would decrease operational costs and contribute to a sustainable community. This was accomplished through attention to detail, an attractive environment, the right equipment, easy and safe access to vehicles being inspected, serviced and repaired, natural daylighting, optimized ventilation, and a super insulated thermal envelope.
The train cars enter the building on elevated tracks, allowing mechanics to work on the wheels and under the cars, while the next level allows access to the interior of the cars for cleaning and the top level affords access to the roof for maintenance.
If possible, please bring your own PPE (hard hat, safety vest, safety glasses). If you don't have your own PPE, a limited number of loaner hard hats, vests and safety glasses will be available. In addition, attendees must adhere to the following protocol:
Closed-toe sturdy shoes – tennis shoes, high heels, sandals, flip flops and fashion boots are not acceptable footwear for the construction site. Boots do not have to be steel toe; they can be hiking boots as long as they are durable and at least ankle high.
Full-length pants or jeans (no shorts, capri pants, skirts or dresses) – Pants do not have to be jeans but they must be long enough to touch the top of your shoes.
Shirts with minimum 4″ sleeves
The cost of the tour is as follows. For information on membership, please visit www.denverarchitecture.org.
Denver Architectural Foundation Members: $10
Non-members: $15
Non-member registration with one-year individual membership: $40
Non-member registration with one-year family membership: $75
Student Member $5
In order to better serve the needs of our members, Denver Architectural Foundation offers on-line registration for the event through the EventBrite registration system. Attendees can pay by credit card or by cash at the tour. However, we encourage you to use a credit card to speed the check-in process at the tour. Please use the EventBrite link above to register. Registration must be complete by Friday October 10th, at 4:00 pm.
Cancellation Policy: Refunds will be given only if cancellations are received before noon on Friday, October 10th.
Space is limited, so register now to ensure a place on the tour. Meeting logistics will be sent the day prior to the tour to those who are registered.