DAF October Hard Hat Tour – Union Denver
Thursday, October 13th, 2016 from 4:30 p.m. – 6:00 p.m.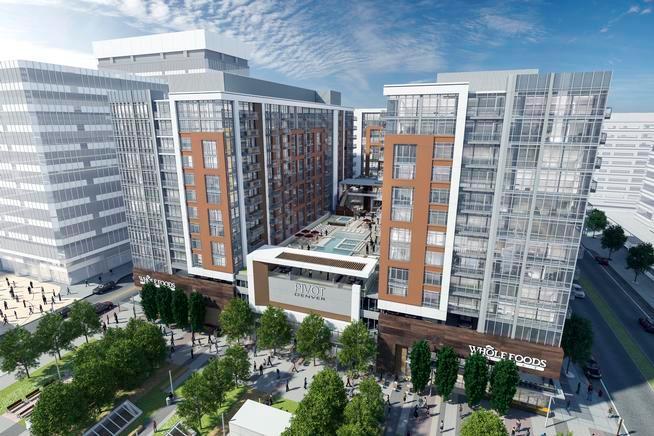 Rendering Courtesy of Davis Partnership Architects
Building Owner: Holland Partner Group
Architect: Davis Partnership Architects
Contractor: Holland Construction, Inc.
Davis Partnership Architects is working with developer Holland Partner Group to design a substantial new mixed-use development in the Central Platte Valley of Denver.
Tour Guides
Located adjacent to Union Station, Light Rail and the new transit hub directly to its west, this project features three residential towers totaling over 600 units with 60,000 square feet of ground floor retail anchored by a Whole Foods urban grocery.
The residential towers are thirteen stories in total height, offering studio, one- and two-bedroom apartments.
The upper two levels feature penthouse apartments ranging in size from 1,000 to 3,000 square feet.
The three towers embrace an outdoor courtyard peppered with lush landscaping, gathering spaces, whirlpools and a swimming pool.
Adjacent to the courtyard, a large interior amenity zone will house fitness spaces, community spaces, kitchens and bars, conference rooms and a business center, along with a myriad of large and small lounges.
Inviting residents to spend time enjoying their community and getting to know their neighbors.
In the lower levels of the building, a Whole Foods Market will be situated along the entire Seventeenth Street frontage.
The store is designed in a non-standard way, opening up to the street across much of its frontage and thereby allowing a more transparent, accessible and interactive pedestrian experience.
The loading and service components of the market are located internally, out of sight of both residents and neighbors.
Other retail spaces will be dedicated to restaurants, bars and other dry good stores supporting the neighborhood. Parking is provided both below and above grade, serving residents as well as shoppers.
The project will be complete in late 2017.