March DAF Hard Hat Tour – 1401 Lawrence
Tuesday, March 14, 2017 from 5:00 PM to 6:00 PM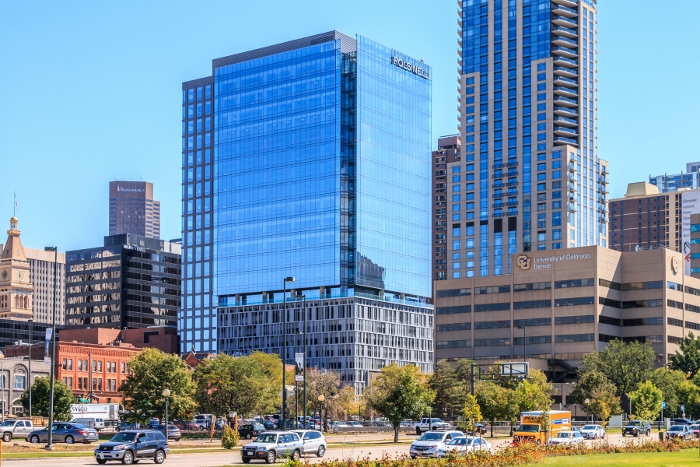 Photo Courtesy of The Beck Group
Building Owner: First Gulf
Base Bulding Architect: The Beck Group
Base Building Contractor: The Beck Group
Polsinelli Tenant Space Architect: HOK | Global Design, Architecture, Engineering and Planning Firm
Polsinelli Tenant Space Contractor: J.E. Dunn Construction
At 311,015 square feet, 1401 Lawrence is located in the heart of downtown Denver, at the entrance to the CBD and LoDo, with immediate proximity to Denver's outstanding amenity base and infused with Downtown's own unique pulse. Serving as downtown Denver's new front door, the Beck-designed and Beck-built building allows easy access by car as well as pedestrian access to both the light rail and 16th Street mall shuttle. The design integrates the historic fabric of Denver's LoDo with a cutting-edge tower design. There are 13 stories of leasable office space sitting atop a nine-story parking podium, and the ground floor includes retail. The building is occupied, has achieved LEED Gold certification for the core/shell, and is seeking LEED Platinum certification for the Polsinelli tenant space.  This tour will cover the lobby, gym, parking structure, and floors 20 through 23.
The cost of the tour is as follows:
DAF Members: $20
Non-members: $25
Student Members: $15
Non-member with One-year DAF Individual Membership: $40
Non-member with One-year DAF Family Membership: $75
Building is finished – personal protective equipment (PPE) not required.
Please use the Eventbrite link above to register. Registration must be completed by Sunday, March 12 at 5:00 PM. Cancellation Policy: Refunds will be given only if cancellations are received before noon on Monday, March 13.
Space is limited, so register now to ensure a place on the tour. Meeting logistics will be sent the day prior to the tour to those who are registered.