DOD Virtual Tour: 200 Block South Lincoln Street Historic District
September 27 through October 17, 2021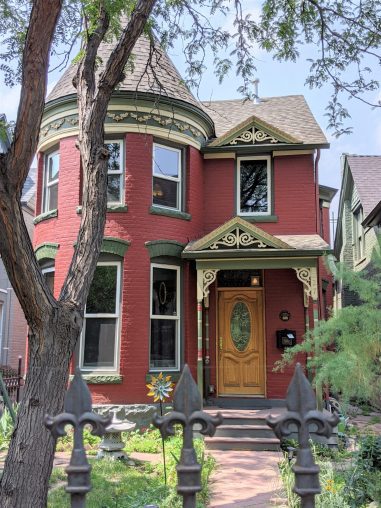 Doors Open Denver Virtual Tour: 200 Block South Lincoln Street Historic District
About the tour: Learn about noted Denver architect William Lang, designer of the Molly Brown House and Castle Marne, and this historic city block, located in what was formerly known as South Denver. Meet homeowners in the area, get inside two private Queen Anne style homes and hear from the woman who led the effort to landmark this important district.
About the district: Fifteen Queen Anne style homes nestled between Alameda and Cedar avenues along the well-traveled Lincoln Street. Built between 1885 and 1895, this notable row of homes is often referred to as "turrets row". One of the homes was awarded the Mayor's Design Award in 2016.
About the tour guides: Terry Gulliver is a Kiwi and Nita Lynch was born in the south and moved to Colorado in 1973. They are the owners of 227 S. Lincoln Street. Terry is a retired ground water engineer who spent his early days in the outback of Australia and who now dabbles in blacksmithing. Nita was a high school science teacher, social worker and addictions counselor and is a consultant for HUD Housing Authority. She is a passionate volunteer and political activist. Nita and Terry have four adult children between them and five grandchildren. Nita and Terry purchased their home in 2011 and are proud that it will be around for future generations.
Eric Bennett and Carolyn Alden have creative backgrounds. Eric is an Art Director/Instructional Designer at a major hospital and Carolyn is an Art Director at a global engineering firm. Eric and Carolyn had been looking for an older home that they could restore and make their own for years. They moved from the Denver suburbs and purchased 224 S. Lincoln Street in 2014. While restoration/construction isn't Eric's primary job, he grew up learning the ropes from his father, which enabled them to tackle most of the work themselves. This takes longer, but ultimately gives them the quality, workmanship and satisfaction they want and are able to afford to bring their vision to reality.
VERY IMPORTANT, READ IN FULL: This is an on-demand virtual tour; this is not a live virtual tour. Upon registering for this tour you will receive access to the online event page on Eventbrite. The virtual tour will be available through the online event page September 27 – October 17 on-demand.
You can access the online event page from:
The confirmation email you receive after registering. Click on "View the event" (September 27 – October 17).
The event listing on Eventbrite (September 27 – October 17, and after registering). Click on "Access the event."
NOTE: You must be logged in with the Eventbrite account you used to register to view the online event page and video.