Bars, Breweries and Distilleries Series: Second Dawn Brewing Tour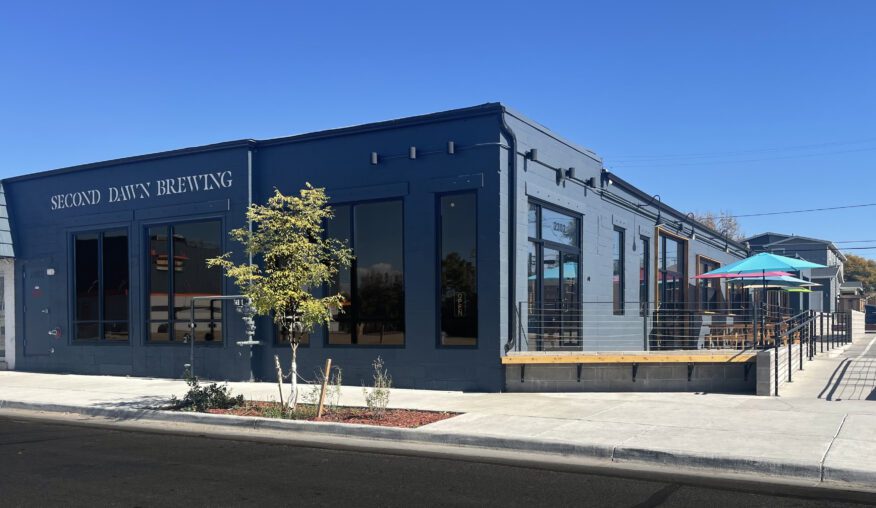 About the tour: A behind-the-scenes look with architect Kaci Taylor of The5WH and brewmaster Ross Koenigs of how to build a brewery for a modern and diverse community. Ross brought the knowledge and Kaci brought the vision for how to create a space that is functional, welcoming and unique. Taste beer and enjoy this unique brewery taproom.
About the building: This brick building was originally an auto-body repair shop with a small front office along the street. Built in 1967, additions had been made to the building throughout the years, leading to random door passages, many elevation changes, and interesting infrastructure choices. In the hands of Kaci, it has been transformed to a light-filled space where the seven garage bays are still discernible in the large windows along the south side. The brewery is housed in the last two bays in the east end.
Please note: This event is open to attendees 21 and older. A tasting is included in the ticket price.
About the tour guides: Founder of THE5WH, Kaci Taylor focuses on creating inclusive and equitable environments through a co-creation design approach. Through her practice, Kaci aims to lead the way to a physically and emotionally healthier world. Her experience ranges from high rise market rate multi-family housing, affordable housing renovations, boutique hotels, breweries, and other community based spaces.
Ross Koenigs has been a brewing professional for nearly two decades. A graduate of the UC Davis Master Brewers Program in California and tenured leader in R&D at New Belgium Brewing Company, Ross is a leader and author in brewing innovation, developing new recipes and techniques including for the VooDoo Ranger series, the Hemperor, and Oak Spire. His dream was always to own and run his own brewery, which became reality in February 2023 when Second Dawn opened.
Amy Koenigs is a thought leader and marketing professional with fifteen years of experience in graphic design, communications and marketing. A graduate of Parsons School of Design in New York, Amy's experience spans from print media at Cosmopolitan and Esquire magazines, to shaping organizational communication and messaging for national education non-profits like New Leaders. Amy's thoughtful designs embody the Second Dawn brand and are best seen on our labels.
Accessibility: Part of Kaci's genius was to transform our building with many different levels into an entirely accessible space — no steps anywhere in the building except for those part of the brewhouse equipment. There are many places and options to sit throughout the space, including an accessible-height bar.