DOD Insider Tour | University of Denver: Athletics & the Arts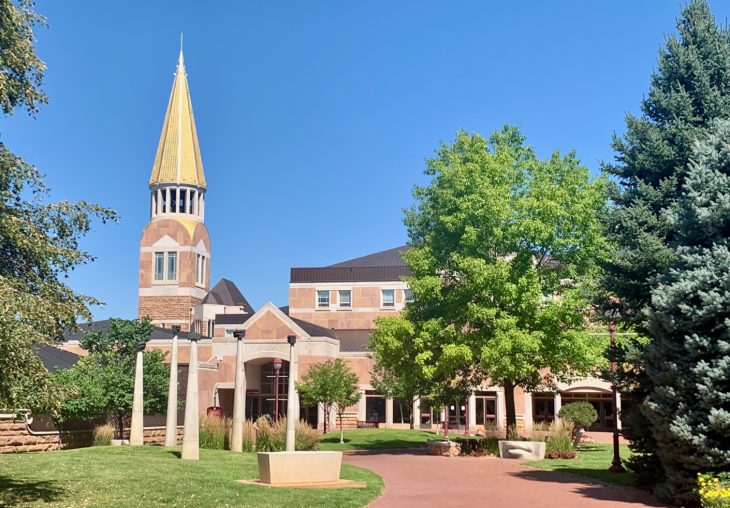 Join us for this in-person Doors Open Denver 2022 Insider Tour at the University of Denver. One tour date is available:
Sunday, October 2, 9-10:30am
About the tour: Experience two world-class facilities on the University of Denver campus essential to student and community life: The Ritchie Center for Sports & Wellness and Newman Center for the Performing Arts. Tour the myriad amenities located within the expansive Ritchie Center and the inspiring, state-of-the-art performance spaces in the Newman Center. Hear from architects about how the facilities were intentionally designed to be complementary and function for students as well as the broader public.
About the campus: Founded in 1864 as the Colorado Seminary, the University of Denver found a permanent home south of Denver two decades later. University Hall was the first building to be completed on the expansive new campus, with views over the city and what is now the University Park neighborhood. Since its establishment, the 125-acre campus has grown to become home to about 12,000 graduate and undergraduate students.
About the tour guide(s): John Everin, Senior Associate, AMD, has over 30 years of experience, primarily in the design of facilities for higher education, cultural institutions and community-oriented projects. Since joining AMD, John's talent has been utilized on several of the firms most notable projects, including the Daniels College of Business, the Newman Center, the Ritchie School of Engineering and Computer Science and the Dimond Family Residential Village at DU. Other notable projects include the Westin Hotel and transit center at Denver International Airport and several projects for the University of Colorado Boulder.
Allison Haynes, Architect, University of Denver, has been practicing architecture for over 8 years in both California and Colorado. She worked at Gensler in the Bay Area for seven years on projects ranging from small retail spaces and tenant improvements to large mixed-use developments of over a million square feet. Now working in the DU Office of the University Architect, Allison provides guidance on new construction and renovations of existing buildings to design and structure an environment at DU that is cohesive and distinctive while celebrating its 150-year architectural heritage.
Accessibility: This 90-minute walking tour will cover the University of Denver campus along paved walking paths. Opportunities for rest will be limited.