DOD Insider Tour | University of Denver: Walking Tour with the University Architect
Saturday, October 1 + Saturday, October 15, 2022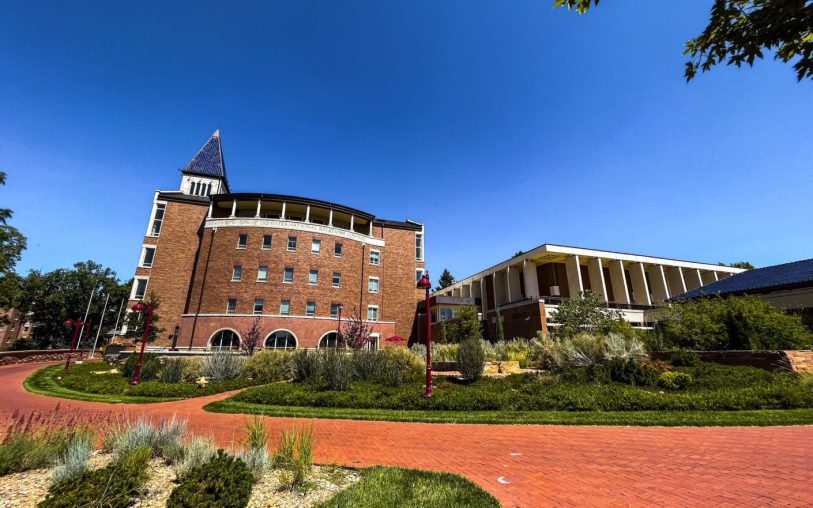 Join us for this in-person Doors Open Denver 2022 Insider Tour at the University of Denver. Two tour dates are available:
Saturday, October 1, 11-12:30pm
Saturday, October 15, 11-12:30pm
About the tour: Join University Architect Mark Rodgers as he discusses challenging and fascinating projects from his decades-long career at the University of Denver. Hear about his experience navigating design requirements, stewarding historic structures and envisioning a campus that will work for future generations of students. The tour will traverse the campus with stops at Johnson-McFarlane Hall, Boettcher Center and Sie International Relations Complex among other points of interest.
About the campus: Founded in 1864 as the Colorado Seminary, the University of Denver found a permanent home south of Denver two decades later. University Hall was the first building to be completed on the expansive new campus, with views out over the city and what is now the University Park neighborhood. Since its establishment, the 125-acre campus has grown to become home to about 12,000 graduate and undergraduate students.
About the tour guide: Mark Rodgers, University Architect, University of Denver, has been deeply involved in new building and renovation projects on the University of Denver campus since 1994. His work centers on unifying the campus in a manner that embraces its distinguished architectural history, accounts for the necessity of enduring design and celebrates an enthusiasm for DU's future. Mark's work reflects a commitment to sustainability and stewardship, achieving the first LEED Gold Certification in the state of Colorado for the Ricketson Law Building in 2003.
Accessibility: This 90-minute walking tour will cover the University of Denver campus along paved walking paths. Opportunities for rest will be limited.