Members Only: City Park Golf Course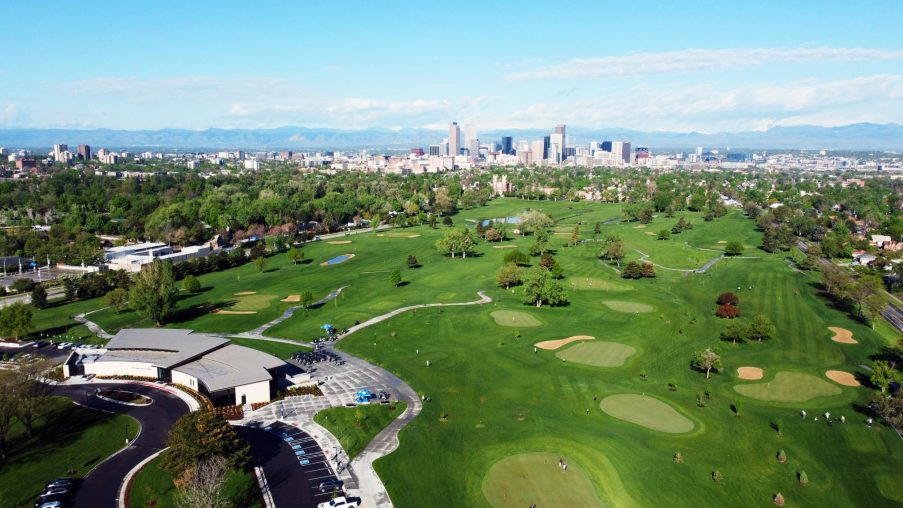 Join DAF for a unique tour of Denver's premier urban municipal golf course – City Park Golf Course – Tuesday, June 29, 7pm. Learn from the design team of Bill Vitek (Dig Studio), Jovina Amor (Johnson Nathan Strohe) and Todd Schoeder (GrassRoots Golf Design), who achieved a complete revamp of the course. Tickets are limited and available for members only.
About the tour: The design team will discuss the challenges and significance of the newly constructed clubhouse and the engineering and landscape architecture of the course. Highlights include the strategic placement and design of the clubhouse, the design and construction of the new stormwater infrastructure and the improved golf course playability. The team will also address their work to preserve existing mature trees and integrate wetland habitat and sustainable native planting, as well as meeting the City's urban canopy reforestation plan.
About the course: After several years of work by various professional consultants and contractors, City Park Golf Course reopened to the public in September 2020. The $45 million renovation of the 136-acre site successfully integrated stormwater detention and water quality improvements, which serve to protect neighboring communities from flooding as part of the City and County of Denver's Stormwater Drainage Infrastructure Program. The site also includes a new LEED Gold Clubhouse and events space.
About the tour guides: Bill Vitek, FASLA, PLA is a Principal with Dig Studio. Bill is a strategic thinker who tackles complex design and planning problems with creativity and passion. He brings over 34 years of knowledge and strategic thinking in urban design, land planning and landscape architecture to focus on creating lasting projects and healthy sustainable communities. Bill's "big idea" approach ensures that each project is unique, grounded in its context, sensitive to people's needs and responsive to clients' budgets. The key to his success has been the care and personal attention he provides clients, leading to long-term, multi-project relationships.
Throughout her 25 years of experience as a design architect, Jovina Amor has created some of the most distinctive and vibrant buildings in Denver. Working as an Associate Principal with Johnson Nathan Strohe, Jovina specializes in the comprehensive design process from concept to execution. She has a unique ability to capitalize on the distinct opportunities and constraints of each project and understands how the initial blocks of a project translate into a fully realized building. Her passion for design is evident through each phase of a project.
Todd Schoeder, ASGCA is the founder and Principal Golf Architect with GrassRoots Golf Design. Todd is an award-winning golf course architect and accomplished shaper with a 25-year career spanning golf course planning, design, renovation, construction, maintenance and operations.
Please note: All attendees (including tour guide and DAF staff) will be required to sign a waiver of liability and answer a COVID-19 questionnaire prior to the in-person tour. All participants must wear a mask on this tour and remain six feet apart. Click here for more information on DAF's COVID-19 precautions.