Modernism Series: Modernism Inside & Out – July 25
We invite you to Modernism Inside & Out, the fourth event in our Modernism Series in partnership with Denver Modernism Week and sponsored by Adrian Kinney, Denver's Mid-Century Real Estate Expert. The event is on Wednesday, July 25, 6:00 to 8:30 PM, in the private home of Adrian Kinney + Kit Beikann, 5765 E Colorado Avenue, in the Lynwood neighborhood.
6:00 to 7:00 PM – Welcome, Enjoy Good Eats, Wine + Beer, Mingle, Explore Inside & Out
7:00 to 8:00 PM – Conversation with home owner, Adrian Kinney, and landscape artist, Dustin Wright
8:00 to 8:30 PM – Social Time, Close
About Lynwood: After the successful development of the cutting-edge Krisana Park neighborhood, Denver developer H. B. Wolff & Co. (father and son team Hy and Brad Wolff) looked to continue their success with the development of a new neighborhood nearby, which they called Lynwood. The neighborhood was to include models from Krisana Park, as well as several new (and larger) models, offering a wider variety of contemporary designs. The architect for both projects was Frenchie Gratts of the Denver firm Gratts & Warner. Although there is clear influence by the designs that California architects Jones & Emmons were producing for Joseph Eichler out west, Gratts and the Wolffs claimed to have traveled the country together from east to west to find inspiration for the design of their homes.
There are five character defining features that are common to the homes in Krisana Park & Lynwood:
Post and beam construction, with only the outer walls being structurally significant, making possible open and flexible planning and allowing for beautiful exposed beams and tongue-and-groove roof deck under low-slope vaulted ceilings.
Wide roof overhang, keeping the house cooler in the summer, making blinds or drapes optional and protecting the wood siding from moisture.
Indoor-outdoor connection through the glass walls in the living areas.
Vertical redwood siding, attractive and easy to maintain.
Philippine mahogany interior paneling.

About the home: Adrian Kinney and his partner Kit have painstakingly restored and renovated this Lynwood home to maintain as much of these defining characteristics as possible, while taking advantage of the flexibility of post-and-beam construction to adjust and open the floor plan to their liking and to add more glass walls than had been originally constructed. They have gone to great lengths to make this house a model of how one can upgrade a classic mid-century modern home to be suitable to the tastes of the 21st Century, while still paying homage to the modern ideals of the mid-20th Century.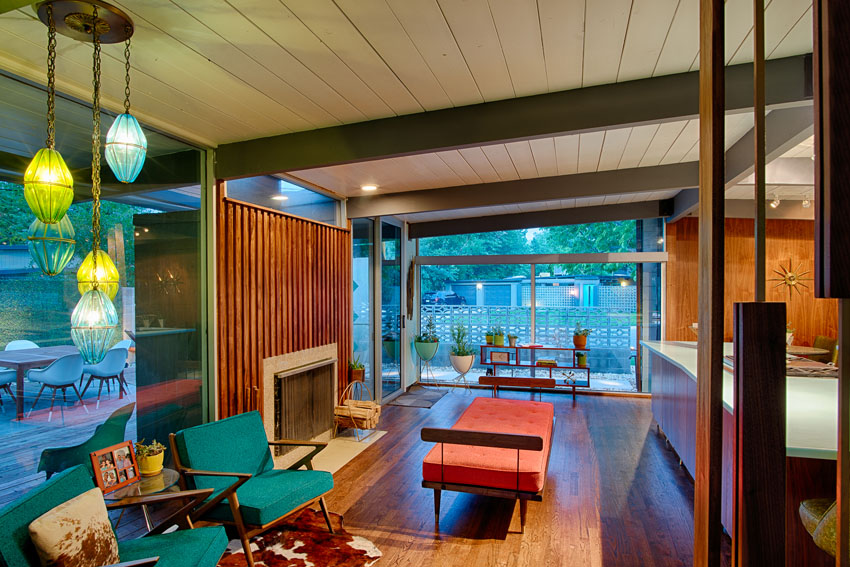 About Adrian Kinney: Adrian is a real estate broker and designer who is passionate about mid-century modern design; so much so that he has built his entire business around helping people across the Denver area buy, sell, design and preserve mid-century modern homes. Over the last three years, Adrian has sold over 40 mid-century modern houses, totaling over 15 million dollars. He is actively pushing for the preservation of his own Lynwood neighborhood, Harvey Park's Cliff May Homes (where he renovated/restored his previous home, winning the 2016 Mayor's Design Award for that project) and other historically significant mid-century neighborhoods around the city. Adrian and his team have been taking an ongoing inventory of mid-century modern houses across the Denver area, documenting the locations and available history of over 6,000 homes to date. He hopes that opening his home to you will increase your interest in and appreciation for these unique and well-designed homes.
About Dustin Wright: Dustin started Living Earth Designs in 2016 with the purpose of bringing a high quality of landscape design and installation at an affordable price point. Living Earth is a full-service firm that specializes in an ecological modernist approach to design; melding native plant palettes and sustainable approaches with the clean lines and geometry of modernism.
Please note: Ample street parking is available in the neighborhood, but please use care not to block driveways as you park. As always, we encourage the use of public transportation, Lyft or Uber – thank you.
Feel free to email us with any questions. Check out our events calendar to keep up-to-date with all DAF happenings.
Images and description courtesy of Atom Stevens.