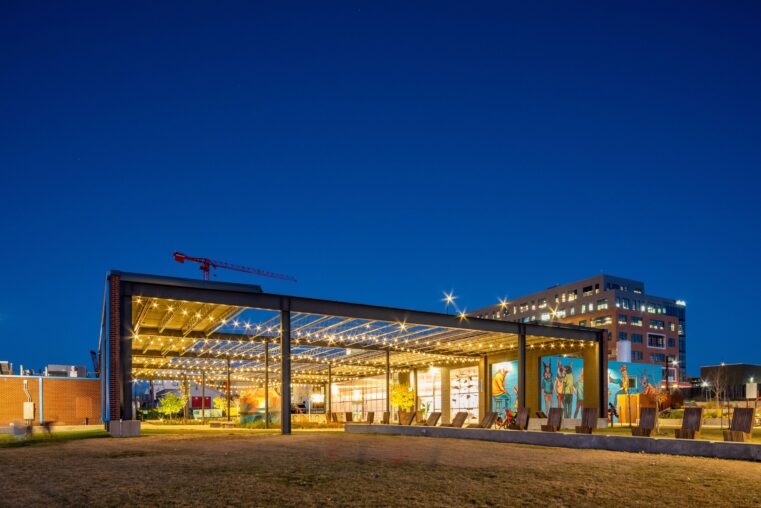 About the tour: The tour will showcase ArtPark, which is a partnership between the City and County of Denver and RiNo Art District. Highlights of the tour include learning about the rehabilitation of two City buildings to form an interdisciplinary arts and cultural hub in the greater Five Points neighborhood, as well as how RiNo Art District worked with local community partners Denver Public Library, RedLine Contemporary Art Center and Focus Points Family Resource Center to inhabit and program the newly created spaces.
About ArtPark: ArtPark consists of two original buildings. The first, on 35th Street, was previously used as a maintenance center for police vehicles. This building has been split in two, with the creation of a public outdoor plaza at its heart. The second building is located in the center of the park and was previously used by the Interstate Trucking Company to maintain its vehicles. This building is still under renovation and will be converted to a flexible venue space with a focus on performing arts, which will open to the public in summer 2023.
About the Tour Guides: Charity Von Guinness is the Executive Director of RiNo Art District. She came to Denver after serving as Director of Development at Locust Projects in Miami. While there, she provided vital support and resources to artists and increased awareness, funding and access to the arts for all. Her experience in arts advocacy, marketing, nonprofit development, building creative content and community outreach, along with her passion for equity and inclusion, have made her a collaborative and agile leader. She holds a degree in Art History from New York University. Charity will be joined by Alye Sharpe, the Deputy Director of RiNo Art District, and Molly Pailet, the Programs Director of RiNo Art District, for this exciting tour of RiNo ArtPark.
Accessibility: No open-toed shoes for people who would like to venture into the space still under renovation. There is level access to the completed buildings, which house a new branch of the Denver Public Library, RedLine Contemporary Art Center and Focus Points Family Resource Center. There is an elevator between levels 1 and 2 of the completed spaces.