South Broadway Christian Church Tour (donation-based)
Wednesday, December 15, 2021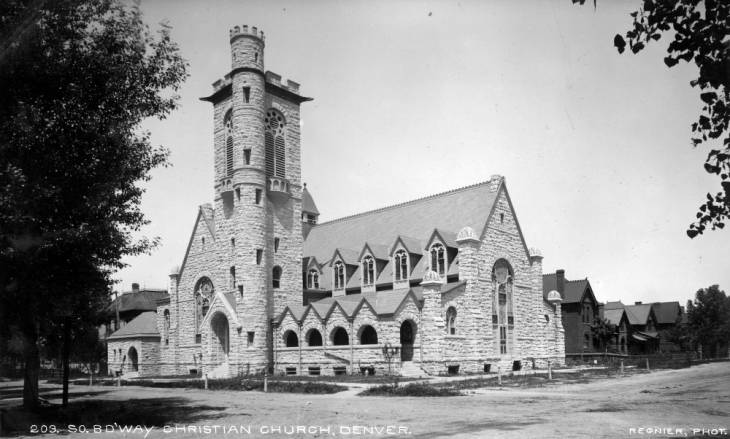 Join DAF for a special donation-based tour of the beautiful and historic South Broadway Christian Church. Pastor Dustin Adkins will guide attendees through the magnificent space with the support of board chair Lexie Barath, organist James Dalton and Ariane Uhll, a tenant of the stunning mid-century modern annex adjacent to the church. In lieu of charging for admission, we are requesting that each registrant donate a $25 grocery gift card to support SBCC's community outreach food cabinet where there is great need at this time. This tour will be offered only once – Wednesday, December 15th at 4:30pm.
About the tour: South Broadway Christian Church is rooted deeply in the local community, having occupied the northwest corner of Lincoln and Ellsworth for the last 130 years. One of Denver's most architecturally significant houses of worship, the building continues to host vibrant communities of believers, as well as artists, creatives, concerts and a variety of community events. This tour will showcase not only significant architectural elements, but some of the people who have made this congregation and community great. You will enjoy unique access to spaces that are ordinarily closed to the public, as well as time in our sanctuary with renowned organist, James Dalton.
About the building: South Broadway Christian Church was one of Denver's first landmarked structures, number 15, added in 1969. The building was constructed in 1891-1892 in the Richardson Romanesque style, and is clad in rhyolite stone quarried in Castle Rock, CO. Based on a plan by L.B. Valk & Son of New York City, the building was completed by local architects J. Edwin Miller and Wenzel J. Janisch. The building boasts nearly 50 stained glass windows, along with a 70-foot tall bell tower. The adjacent mid-century modern educational annex was added in 1956.
About the tour guide: Dustin Adkins, Pastor, has served the South Broadway Christian Church as pastor since 2017, after serving as Youth Pastor and then Associate Minister from 2014-2017. A native of Tennessee, a chance opportunity brought him to Colorado over 20 years ago. His desire to create a just and meaningful spiritual community, including a deep love of historic architecture, makes the SBCC the perfect community to serve.
Please note: All attendees (including tour guides and DAF staff) will be required to sign a waiver of liability and answer a COVID-19 questionnaire prior to the in-person tour. All participants must wear a mask on this tour and remain six feet apart. Click here for more information on DAF's COIVD-19 precautions.