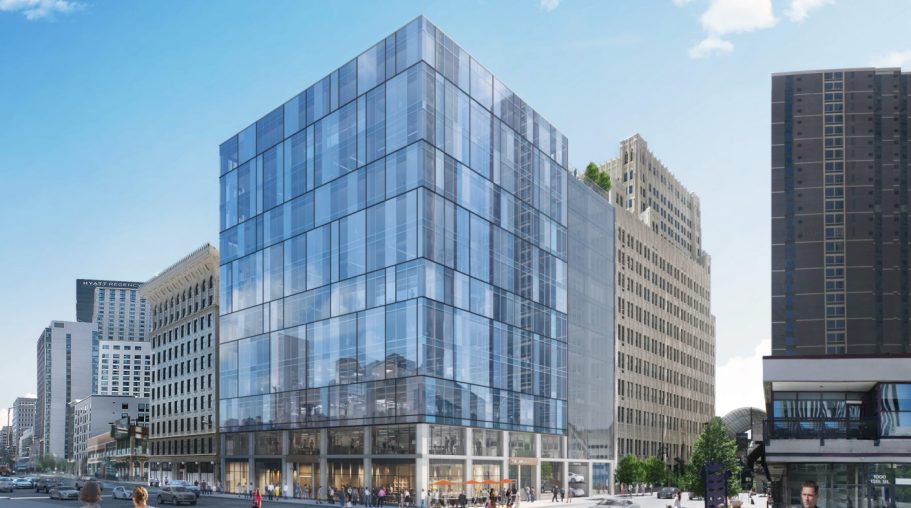 Doors Open Denver: The Link
930 15th St
Tour guide: Alex Garrison, AIA, Design Director at Gensler
About the tour: On this tour we will walk you through the transformation taking place at The Link from an underutilized telecom building to a mixed-use office tower. The tour includes a look at the new curtainwall façade, hospitality-inspired lobby and tenant amenity floor on level 12. Renovating a 1960s-era building into a modern office building is not easy and we will be discussing the challenges and opportunities on the project.
About the building: The Link, formerly known as the Century Link building, is an 80,000 square foot 12-story tower built in two phases during the 1960s. The building was purchased by a partnership between Steelwave and Rialto Capital with the intent of transforming the building into a vibrant creative office tower. Expected to be completed end of 2020, The Link will feature an entirely new energy efficient curtainwall, roof deck and a hotel-like lobby with coffee shop.
About the tour guide: Alex Garrison, AIA is a Design Director at Gensler and has been with the firm since 2012. Prior to Gensler, he worked in Europe with Behnisch Architekten and in Virginia with VMDO Architects. Alex is an avid reader and is always exploring new subjects.
VERY IMPORTANT, READ IN FULL: This is a virtual tour. Upon registering for this tour, you will receive an email confirmation of your registration from Eventbrite. Within 24 hours you will receive a confirmation from Denver Architecture Foundation (via Zoom) with your unique individual link to the tour. Please check your junk/spam if you don't see this email in your inbox. You will receive reminder emails 24 hours in advance and 1 hour in advance from Denver Architecture Foundation (via Zoom), again with your unique individual link to the tour. If you purchase more than one ticket, you must provide names and email addresses for each participant. Zoom provides a unique link for each participant to access the tour; the same link cannot be used across multiple participants.