The Navarre Building & Anschutz Collection Tour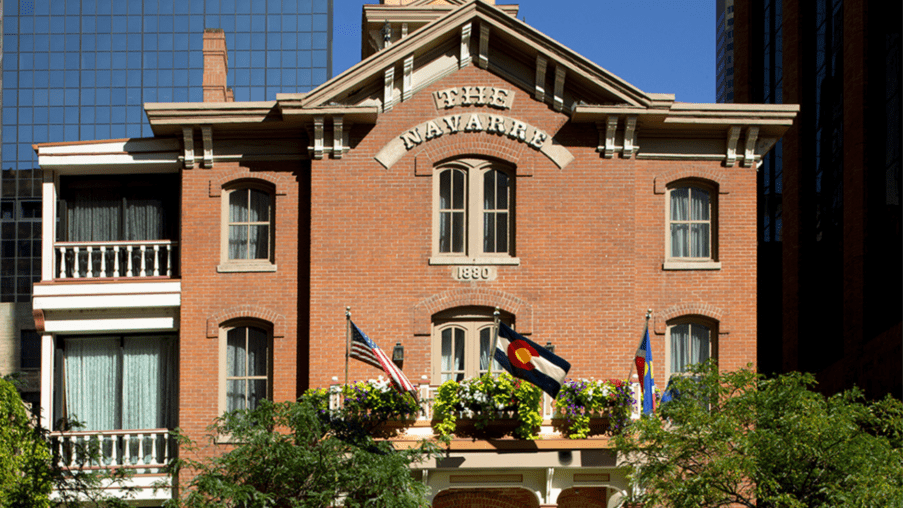 About the tour: This 60-minute tour will cover the history of The Navarre building and an overview of the American Museum of Western Art – The Anschutz Collection, which now occupies the building. The tour will begin outside, looking at the façade of the building, and include four floors of the building's interior, exploring history through both architecture and painting. The art of The Anschutz Collection contains paintings depicting the western United States from the 1820s to the early 2000s. The museum's educational mission and art collection are a nice complement to The Navarre building's beginnings as an educational institution, the Brinker Collegiate Institute, and its historic ties to early Denver as a western frontier town.
About The Navarre: Designed by Frank E. Edbrooke, The Navarre was built in 1880 as part of the Brinker Collegiate Institute, a college prep school. Though never a house, as the residential Italianate-style architecture would suggest, the building has been many things over the years, including an infamous sporting house (whose name "The Navarre" stayed with the building long after the business closed), restaurants, a jazz club and art museums. Today, The Navarre houses the American Museum of Western Art – The Anschutz Collection.
About the tour guide: Claire Mosier is the Registrar at the American Museum of Western Art – The Anschutz Collection. She was born and raised in Littleton, CO and has grown up with an appreciation of the West and the art it inspires. She graduated with a Bachelor's in History from the University of Colorado at Denver and a Master's in Library and Information Science from the University of Denver. She is particularly interested in efforts behind preserving art and architecture of the American West. 
Accessibility: The building entrance is on the garden level, with stairs on the left side of the building and a wheelchair ramp on the right side of the building. Restrooms on the 1st floor are wheelchair accessible. There is an elevator that goes to all floors of the building we will access for the tour. There are benches on the 3rd and 4th floors, and a large table with chairs on the 2nd floor that guests can use for seating during the tour.