Tour: Behind-the-scenes at Cherry Creek's MOXY Hotel – February 13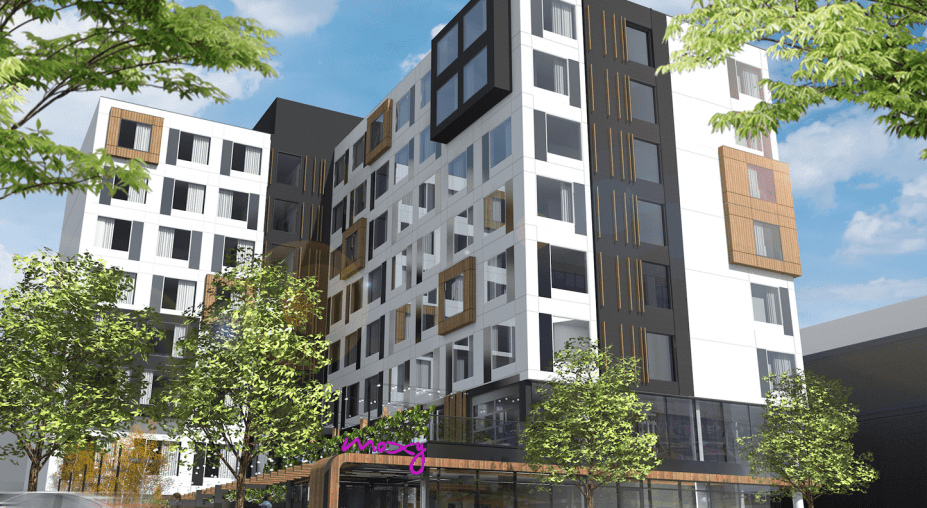 Join us for an exclusive behind-the-scenes tour of Cherry Creek's recently opened MOXY Hotel from 4:30 to 6:00 PM on Tuesday, February 13. During the 90-minute tour we'll hear about the design process from Johnson Nathan Strohe partners, Nicole Nathan and Tobias Strohe, both AIA, LEED AP, as well as the current function of the hotel from Chris Feaster, Hotel Captain, and Sara Brady, Director of Sales. This tour is not to be missed!
About the site: The eight-story, 170-room Moxy Denver Cherry Creek is geared toward the modern millennial traveler with an emphasis on experiential design that encourages social interaction. The architecture is designed to blend cohesively into the fabric of one of Denver's most iconic neighborhoods.
JOHNSON NATHAN STROHE's design for the boutique hotel succeeds in both localizing an international brand to fit into the sophisticated Cherry Creek North neighborhood and using creativity to maximize small spaces with rooms designed at just 180 square feet.
The space, which opened in November 2017, emphasizes connection and interaction, with 3,000 square feet of communal space, including a bar serving locally sourced beer and spirits, a lobby with games like foosball and shuffleboard, and a spacious outdoor courtyard with custom stadium seating and fire pits. – Description and rendering courtesy of Johnson Nathan Strohe
Please note, parking is limited on-site. Allow ample time for metered street parking. As always, we encourage the use of public transportation, Lyft, or Uber. Thank you.
Check out our events calendar to keep up-to-date with all DAF happenings!