Recap: Hard Hat Tour – DaVita II
Our August Hard Hat Tour at DaVita II was Monday, August 27, 2018, and was guided by Drew Marlow, Eky Kosiyasthit, Kendra Brodkorb and Lauren Curry from Acquilano Leslie Inc. and designers from Gensler.
About the tour: 16 Chestnut consists of a new 640,000 GSF office building and parking garage. The building is a single phase, core and shell, class AA speculative office project with a construction timeline of 24 months beginning in June 2016. Due to their high-growth needs and a mindful commitment to the Denver community, DaVita leased another 360,000 square feet opposite their World Headquarters. The site was completed in 2014, establishing DaVita's downtown campus, which flanks LoDo's iconic millennium bridge. The interior architecture is highlighted by a modular office space that's pre-engineered for ultimate flexibility, multiple social spaces, conferencing center and eatery with a breathtaking outdoor terrace experience.  The tour offered attendees a sneak peak glimpse of the construction development underway by Saunders Construction.
Description and interior rendering courtesy of Acquilano Leslie Inc.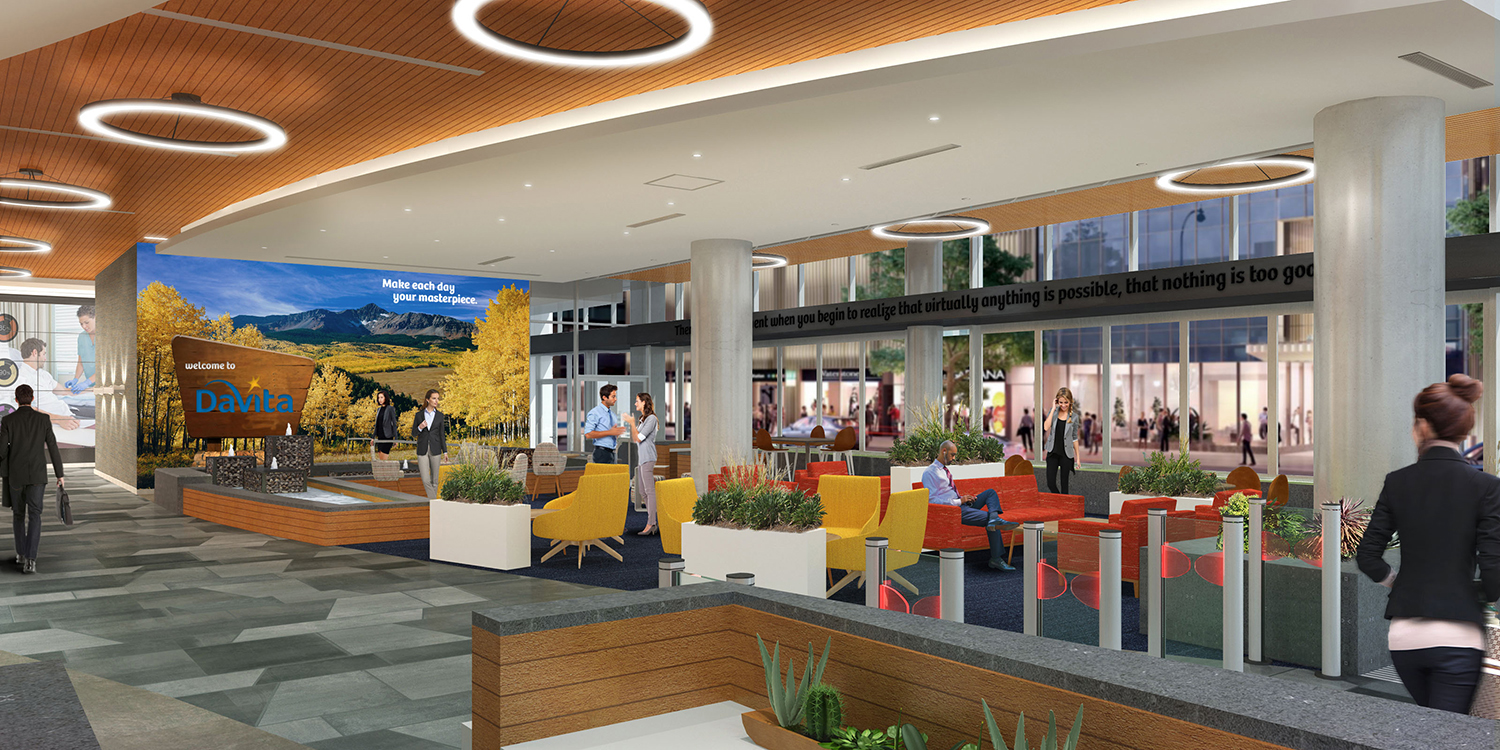 About the site: The project presented an exciting opportunity to craft a building that conveyed a timeless and intelligent elegance. The design of the building balances a streamlined curtain wall glass volume with a rusticated precast base as a way to not only address the ground plan of the urban environment but to also provide balance on the budget goals for the project. 16 Chestnut is a unique building with two primary lobbies, one to serve the majority tenant and a second to provide the remaining tenant space their own lobby and entrance.  It has no true "back"; every face is the front of the building and it is served from one elevation.  The design of 16 Chestnut attempts to combine sustainable practice in ways that enhance complementary project goals. It encourages bike commuting by incorporating safe, easily accessible bike storage and locker facilities that simultaneously activate the street and building elevations. A 12th floor roof terrace incorporates local and drought tolerant plantings. The building is targeting LEED Platinum Certification and will implement educational programs for building occupants to encourage participation in the building's sustainability. 
Description and exterior rendering courtesy of Gensler.