CATALYTIC DENVER: Aerotropolis or Exurbia?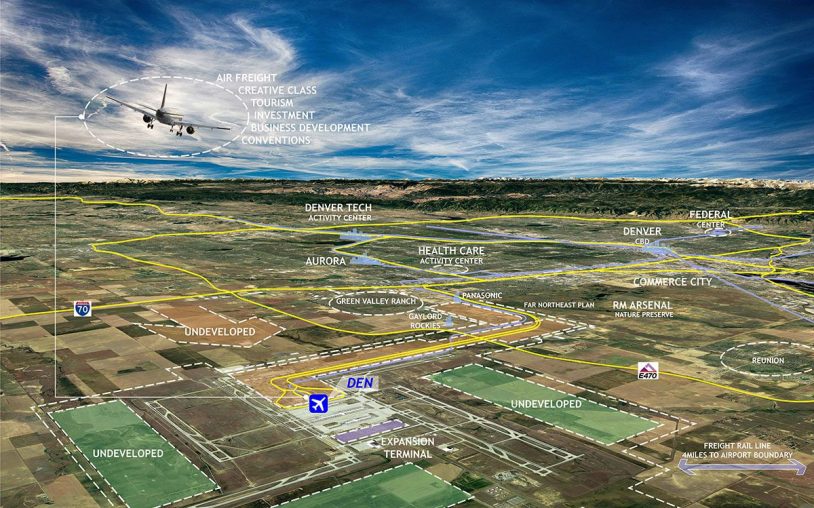 Join us for the fourth installment in our ongoing Lecture Series – CATALYTIC DENVER.
CATALYTIC DENVER: Aerotropolis or Exurbia? 
Monday, March 25, 2019
6:00pm to 7:30pm (doors open at 5:30pm)
Sharp Auditorium, Denver Art Museum Hamilton Building
FREE and open to the public
Panel Speakers
Courtland Hyser, Principal City Planner, City & County of Denver
George Adams, Director, Planning & Development Services Department, City of Aurora
Greg Lindsay, Co-author, Aerotropolis: The Way We'll Live Next
Moderated by Ignacio Correa-Ortiz, AIA, AICP CUD, LEED AP, Senior Architect/Urban Designer, RTD
Program Description
Aerotropolis is a kind of urbanism that has been developing around major international airports since the years international air travel expanded. As DEN updates its plans to maximize throughput, Denver, Aurora and Commerce City are also updating their municipal plans to flank the airport with business parks, logistic hubs, convention centers, hotels and even residential uses.
Can the experiences of other aerotropolises around the world, including Memphis and Louisville, inform development around DEN or is the Denver experience unique? Can the encroaching development achieve a level of urbanism that is greater than exurban sprawl? This panel will explore what the vision for an aerotropolis looks like for both Denver and Aurora, and will probe issues of sustainability, economic development and urbanism.
Presented in partnership with the Design Council of the Denver Art Museum.
Please note: Allow ample time for parking or consider taking public transit to the Denver Art Museum (100 W 14th Ave Pkwy). The most convenient place to park is the Cultural Center Complex Garage at 12th and Broadway. Doors open at 5:30pm. 
Image: Courtesy of Ignacio Correa-Ortiz.