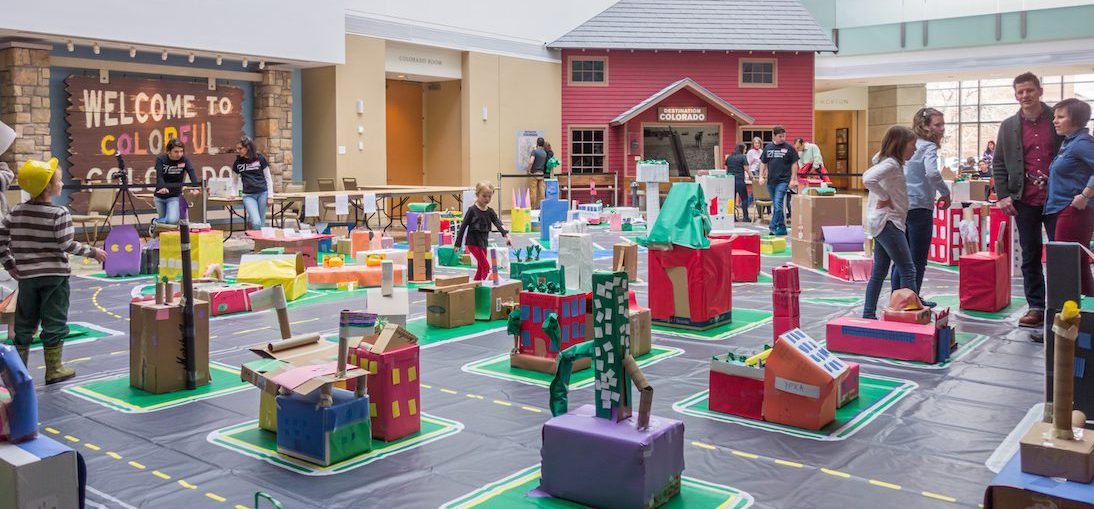 Box City
Teaching kids about the process of urban development.
Box City is on hiatus this year as we work on exciting improvements to the program. Follow the link below to subscribe to DAF eNews for the latest on Box City and more ways to experience Denver architecture.
Box City is an event for children (and their caregivers) – grades K-5 – where participants learn about the process of urban development and the principles that make for sound architecture, design and planning. Students start with a Building Permit for their desired building type, make a sketch of their building in the Design Studio, stop at the Hardware Store to get their cardboard and paper supplies, then head to the Construction Zone to make their Box City structure. After completing the Building Inspection process, students head to the Box City street grid where an Urban Planner helps them select an appropriate building site. Children finish the process by picking up their Certificate of Occupancy which includes a photo of them with their building.
2021's BOX CITY event, in partnership with History Colorado, took place on Monday, May 31 through Sunday, June 6. Check out the timelapse video below of Box City 2021!
Stay Connected
Receive DAF updates straight to your inbox. Click to subscribe to DAF eNews.