DAF + Habitat for Humanity: Aria Homes Tour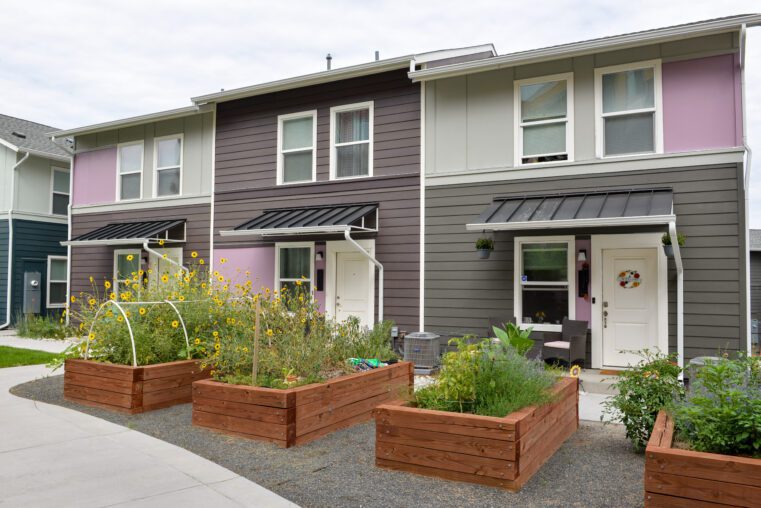 Tour Aria Homes, 28 townhouses built by Habitat for Humanity of Metro Denver. Get a sneak peek at the new homes and discover the unique features of the larger 17.5-acre Aria Denver development, including community gardens, a playground and open spaces. In lieu of admission for the tour, DAF requests each registrant make a monetary donation in support of the work of Habitat for Humanity of Metro Denver.
About the tour: With guides from Habitat of Metro Denver and development company Urban Ventures, LLC, tour Aria Homes and the larger Aria Denver neighborhood. Located one block from Regis University on the former site of the Marycrest Convent, Aria Denver is designed to support simple, healthy living through a number of onsite resources. Explore the 2-, 3- and 4-bedroom Habitat townhomes and their thoughtful features, from bonus living space on the second floor to professionally landscaped common spaces. Hear how resident engagement is at the heart of the multi­generational, mixed-income Aria Denver community.
About Habitat for Humanity of Metro Denver: Habitat for Humanity of Metro Denver is part of a global, nonprofit housing organization that seeks to build strength, stability and self-reliance through affordable homeownership. Families and individuals in need of a hand-up partner with Habitat for Humanity to build or improve a place they can call home. Habitat homeowners help build or repair their own homes alongside volunteers and pay an affordable mortgage or reduced cost for repairs. Driven by the vision that everyone needs a decent place to live, Habitat for Humanity of Metro Denver has served more than 1,500 local families throughout its 43-year history in Denver.
About the tour guides: Susan Powers, President, Urban Ventures, LLC, has led multiple mixed-income and mixed-use projects in and around downtown Denver over the past 25 years, including the Aria Denver neighborhood and STEAM On The Platte, and is currently involved in four affordable housing developments in Colorado. Prior to creating Urban Ventures, she was the Executive Director of DURA and participated in the redevelopment of downtown Denver.
Heather Lafferty, CEO and Executive Director, Habitat for Humanity of Metro Denver, has led Habitat for Humanity of Metro Denver since 2008. Under her leadership, the $30 million organization now serves more than 200 new households annually, advocates for housing and racial equity policies, operates four ReStores and mobilizes tens of thousands of volunteers across the metro area to engage in a tangible solution.
Amy Hoffer, Superintendent—New Construction, Habitat for Humanity of Metro Denver, has worked almost 10 years with Habitat for Humanity of Metro Denver as a Construction Supervisor and now Superintendent. In addition to working with Habitat affiliates in metro Denver and in Lake County, IL, Amy has taught Middle and Junior High School and has done a variety of renovation work.
Kate Hilberg, Director of Real Estate Development, Habitat for Humanity of Metro Denver, has been overseeing land and housing acquisition, land planning and housing design and construction since joining the organization over 11 years ago. Prior to joining Habitat, Kate worked at Urban Ventures, LLC, as a Project Manager and was involved in the early planning, design, entitlement and construction work at Aria Denver.
Accessibility: As the tour covers portions of the Aria Denver community, plan to dress for the weather. The first floors of the townhome units are accessible by wheelchair via the back doors, which have no-step entrances. Opportunities for seated rest will be limited.
Please note: All attendees must wear closed-toe, sturdy shoes for the tour.