DOD In-Person Tour: Eugene Groves' Nordlund House
Saturday, October 9 + Sunday, October 10, 2021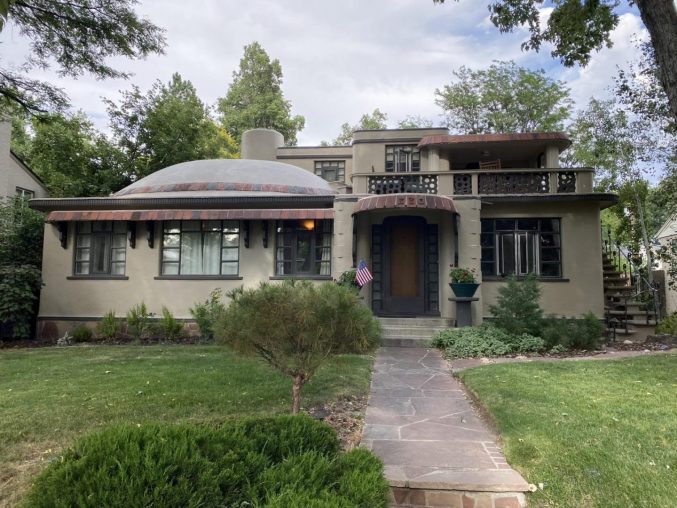 Join DAF for an in-person tour of Eugene Groves' Nordlund House. This tour will be offered TWICE:
Saturday, October 9, 11:00am-12:30pm
Sunday, October 10, 11:00am-12:30pm
About the tour: This tour is of the largest and most elaborate example of Eugene Groves' residential work, the Nordlund House in the historic Hilltop neighborhood. Starting in the early 1900s, architect Eugene Groves designed many buildings in Colorado including approximately 17 buildings on the CSU campus. After developing his own style and construction methods, Groves experimented with the use of pre-cast reinforced concrete in order to facilitate a fire proof, clean and easy to maintain home to accommodate the daily needs of the family. In this process Groves established the Concreter Company, backed by Charles Boettcher, and received patents for his unique building techniques.
About the home: The Eugene Groves Nordlund House was constructed in 1938, and is a truly unique home demonstrating Groves' experimental building techniques and unique and futuristic design features. The home features a modular construction free from any wood structures, but instead utilizes pre-cast and poured in place concrete and steel construction throughout the home. This includes: an expansive concrete ovular dome over the living room; concrete roofing; concrete wall studs and joists; contoured steel mesh lathe; hand troweled concrete wall surfaces; concrete door jambs; concrete stairs and balcony railings; concrete double-pane window frames; concrete kitchen and in-wall cabinetry; built-in concrete desks; seating; and originally concrete bed alcoves called "Sleeping Units". With only three homes, and the original Johnson's Corner South Longmont Service Station/M.C. Motors Auto Brokers, built using this technique, this is truly a unique home.
About the tour guides: Jason Pingenot and Hillary Smith are the current inhabitants of the Nordlund House and are both engineers by training. Jason is a second generation Denver native, with Hillary hailing from Detroit. Since acquiring the home in 2013, it has become a passion project for them, and has lead to a profound interest in modern architecture and the preservation of the home.
John P. Olson is a Historical Architect with the Intermountain Region of the National Park Service where he works with National Historic Landmarks, Heritage Documentation Programs, National Heritage Areas, the Japanese American Confinement Sites Grant Program and Federal Historic Surplus Properties. His previous experience includes roles with Historic Denver, Humphries Poli Architects and the National Trust for Historic Preservation. John holds a Bachelor of Arts in Art History from Gustavus Adolphus College in Minnesota and a Master of Architecture degree from the University of Colorado Denver.
Please note: All attendees (including tour guide and DAF staff) will be required to sign a waiver of liability and answer a COVID-19 questionnaire prior to the in-person tour. All participants must wear a mask on this tour and remain six feet apart. Click here for more information on DAF's COVID-19 precautions.
Tour meeting location will be included in your purchase confirmation.