DOD In-Person Tour: U.S. Olympic & Paralympic Museum
Saturday, October 16 + Sunday, October 17, 2021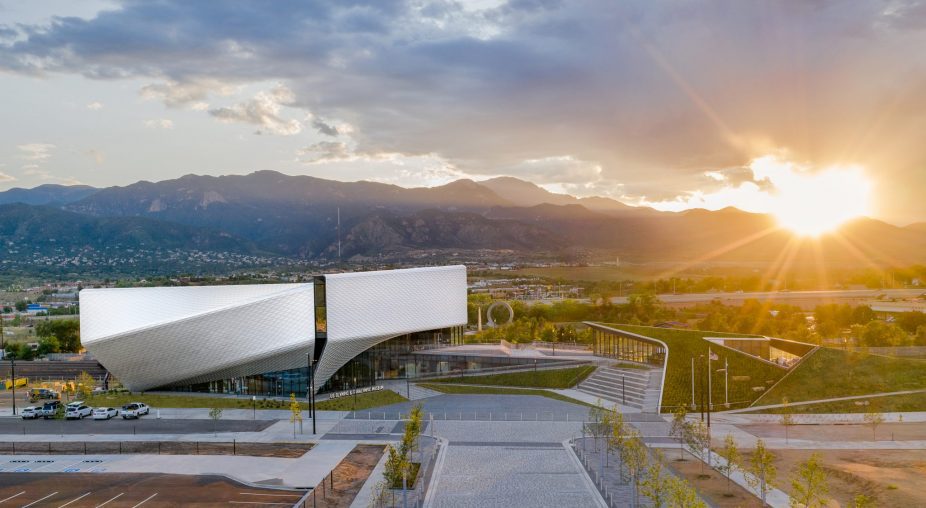 Join DAF for an in-person tour of the new U.S. Olympic & Paralympic Museum. This tour will be offered TWICE:
Saturday, October 16, 10:00am-11:30am
Sunday, October 17, 10:00am-11:30am
About the tour: Tour USOPM with architect of record Andy Nielsen, FAIA of Denver's Anderson Mason Dale Architects and key museum staff. Explore the exterior and interior of this contemporary building located in Colorado Springs, CO, and designed by world-renowned architects Diller Scofidio + Renfro. The plaza, building façade, galleries and pedestrian bridge will be featured, along with the site's focus on accessibility.
About the building: The U.S. Olympic & Paralympic Museum is dedicated to Team USA athletes and their compelling stories, with the artifacts, media and technology behind the athletes who make the United States proud. Designed in a narrative arc, the 60,000 square-foot building features 12 galleries. The universal and interactive galleries allow guests to experience these inspiring stories through cutting-edge technology that prioritizes accessibility and inclusivity.
About the tour guides: A licensed architect and registered professional engineer, Andy Nielsen brings a unique skill set to design. Through extensive research and complex project experience, Andy is an expert in the design and construction of state-of-the-art facilities, working collaboratively with clients to deliver exemplary projects aligned with budget requirements. Andy's work has been published in architectural journals and received numerous design awards. Andy is foremost a believer in the collaborative nature of the design process and has led many of our firm's most distinguished projects accordingly.
Peter Maiurro, Chief Communications and Business Affairs Officer, joined the USOPM team full time in July 2019. Prior to that, Maiurro served as interim Chief Operating Officer for the museum from October 2016 to June 2019. Maiurro earned a bachelor's degree from Colorado College and a master's degree in public administration from University of Colorado, Colorado Springs. He lives in Colorado Springs with his wife and their two daughters.
Michelle Dusserre Farrell, Vice President, Athlete Engagement, is a 1984 Olympic silver medalist in gymnastics and joined the USOPM in January 2020. Her previous work experience includes positions with the U.S. Olympic & Paralympic Committee, TSE/BCW Consulting and NBC Olympics. Dusserre Farrell has overseen alumni relations and athlete engagement for the Colorado Chapter – U.S. Olympians & Paralympians Association and Olympic City USA. She earned a bachelor's degree in human nutrition from Arizona State University and a master's degree in basic science from University of Colorado, Colorado Springs. Dusserre Farrell resides in Colorado Springs with her husband and their two daughters.
Please note: All attendees (including tour guide and DAF staff) will be required to sign a waiver of liability and answer a COVID-19 questionnaire prior to the in-person tour. All participants must wear a mask on this tour and remain six feet apart. Click here for more information on DAF's COVID-19 precautions.
Tour meeting location will be included in your purchase confirmation.