DOD Insider Tour | Auraria Campus: An Evolving Campus
Saturday, October 8 + Sunday, October 16, 2022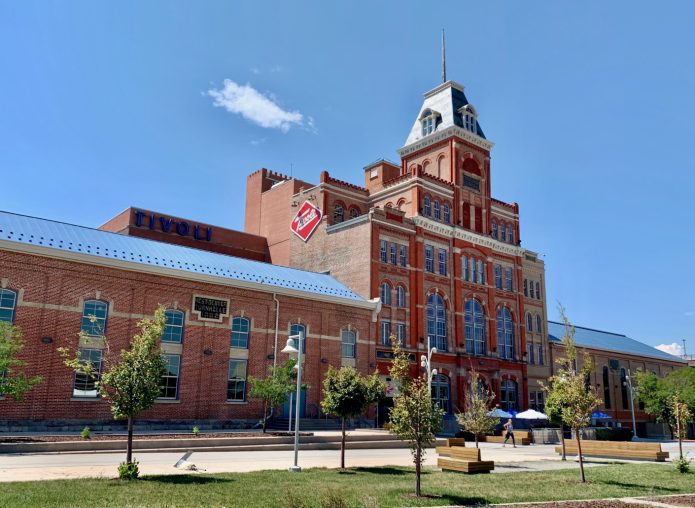 Join us for this in-person Doors Open Denver 2022 Insider Tour at the Auraria Campus. Two tour dates are available:
Saturday, October 8, 11-12:30pm
Sunday, October 16, 11-12:30pm
About the tour: Visit three notable buildings on the Auraria Campus, all reimagined for modern campus life. Explore the Tivoli Student Union, the iconic brewery transformed into a student and community hub, and Auraria Library, designed by architect Helmut Jahn in 1976 and recently renovated. The Emmanuel Gallery, a visual art gallery housed in the oldest standing religious structure in Denver, will also be featured. Hear how these important sites grew and evolved with the Auraria Campus through thoughtful modifications.
About the campus: Located in the heart of downtown, the Auraria Campus is a dynamic academic environment shared by three distinct institutions: Community College of Denver, Metropolitan State University of Denver and University of Colorado Denver. The campus developed on the site of the historic Auraria neighborhood, which predates Denver's establishment. Today, the unique urban campus serves roughly 38,000 students and is managed by the Auraria Higher Education Center (AHEC).
About the tour guides: Robin Becker, Senior Campus Planner for the State of Colorado, Auraria Higher Education Center (AHEC), works on a wide array of unique and complex projects, including collaborating with the surrounding neighborhood and local government agencies and guiding tri-institutional education development projects. Prior to AHEC, Robin was a Planner with the City of Golden and the Town of Estes Park and worked in the Housing and Environmental Engineering sectors overseas. She has a Master of Urban Planning with Honors from the University of Auckland.
Jeff Lambson, Director and Curator, Emmanuel Art Gallery, has been at the University of Colorado Denver since 2017. Prior to his position at CU Denver, Jeff was founding Curator of Contemporary Art at the BYU Museum of Art, the most-attended university art museum in North America. He began his arts career at the Smithsonian Institution's Hirshhorn Museum and Sculpture Garden in Washington, DC, the nation's museum of modern and contemporary art.
Carl Meese, Director of Campus Planning, Auraria Higher Education Center (AHEC), has been a planner for the Auraria campus for over 10 years. He also leads Capital Project Planning, the Sustainable Campus Program, Design Review Boards and the Campus Planning Committee. Before working for AHEC, Carl received a Master of Arts Degree in Community and Regional Planning with an Urban Design concentration at the University of British Columbia in Vancouver, Canada. He is a certified planner, a member of the Society for College and University Planning and is a full member of the Urban Land Institute.
Andrew Palamara, Gallery Coordinator, Emmanuel Gallery, previously worked in education at the Cincinnati Art Museum, Dallas Museum of Art and MASS MoCA. He holds a BFA in Graphic Design and Illustration from Belmont University and a MA in Art Education from the University of North Texas. When he's not at the gallery, Andrew is most likely running, reading or playing music.
Gerhard (Gary) J. Petri, AIA, is a licensed architect with 45 years of experience in the field. He has specialized in historic preservation for the past 35 years. In 2001-2002, Gary's previous firm, Slaterpaull Architects, was selected to lead the design for the revitalization of the Tivoli buildings. Gary currently serves on the Denver Landmark Preservation Commission and the board of trustees for Historic Denver, Inc.
Anne Pharamond, Architect, studiotrope Design Collective, has been working in Denver since 1998 and with sDC since 2012. sDC was selected in 2013 for the first of what turned out to be five phases of construction on the Auraria Library renovation, spanning almost 5 years. Having studied at CU Denver, the opportunity to revitalize this architecturally significant building was a privilege. Anne is currently managing the Denver Public Library Central Library renovation.
Accessibility: This 90-minute walking tour will cover a portion of the Auraria Campus along paved walking paths. Opportunities for rest will be limited.