DOD Insider Tour | Auraria Campus: Historic Auraria
Saturday, October 1 + Sunday, October 9, 2022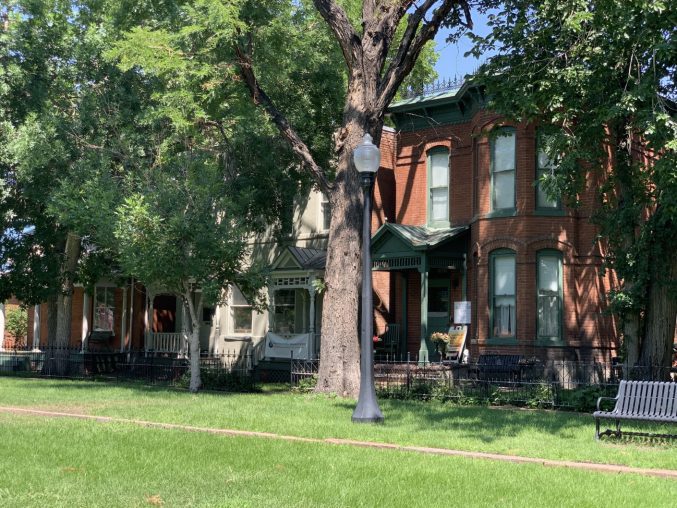 Join us for this in-person Doors Open Denver 2022 Insider Tour at the Auraria Campus. Two tour dates are available:
Saturday, October 1, 11-12:30pm
Sunday, October 9, 11-12:30pm
About the tour: Learn about the history of the Auraria neighborhood, once a thriving Latino community, and its enduring presence on the Auraria Campus. Tour-goers will visit the Auraria 9th Street Historic Park—a block of Victorian residences among Denver's oldest—to hear how the homes were saved from demolition in the early 1970s and feature on the campus today. The tour will explore the former location of the beloved Casa Mayan restaurant, relocated Golda Meir house and Spanish Colonial style St. Cajetan's, built in 1929.
About the campus: Located in the heart of downtown, the Auraria Campus is a dynamic academic environment shared by three distinct institutions: Community College of Denver, Metropolitan State University of Denver and University of Colorado Denver. The campus developed on the site of the historic Auraria neighborhood, which predates Denver's establishment. Today, the unique urban campus serves roughly 38,000 students and is managed by the Auraria Higher Education Center (AHEC).
About the tour guides: Dr. Nicki Gonzales, Professor of History and Vice Provost for Diversity and Inclusion, Regis University, was born and raised in Denver and has has deep roots in the coal mining and agricultural communities of Colorado and New Mexico. She is a graduate of Yale University and CU Boulder, with a PhD in American History. Dr. Gonzales recently completed her term as Colorado State Historian and is a member of History Colorado's State Historian's Council. Dr. Gonzales specializes in the history of the American West, with a focus on race relations and social and political movements. Her most recent projects include the City's Latino/Chicano Historic Context Study and an oral history of Chicano Vietnam Veterans.
Mark Broyles, AIA, Assistant Professor, has taught at CCD since 2013 and is the program chair of the architectural technology program. Mark has 35 years of experience as a practicing architect and urban designer while living in Virginia, Washington D.C., Seattle, London and Colorado. His projects have included residential design, university buildings and a number of sustainably designed K-12 DPS schools across the Front Range. He was also a member of the Denver Union Station Master Plan team. Mark holds a Bachelor of Science in Architecture and a Master of Architecture, both from University of Virginia. In 2001, he was awarded the DC AIA Honor Award with Richard Chenoweth for Historic Preservation.
Accessibility: This 90-minute walking tour will cover a portion of the Auraria Campus along paved walking paths. Opportunities for rest will be limited. Interior spaces in the historic buildings are not wheelchair accessible.