Eugene Groves Tour Series: Nordlund House
Tuesday, September 13, 2022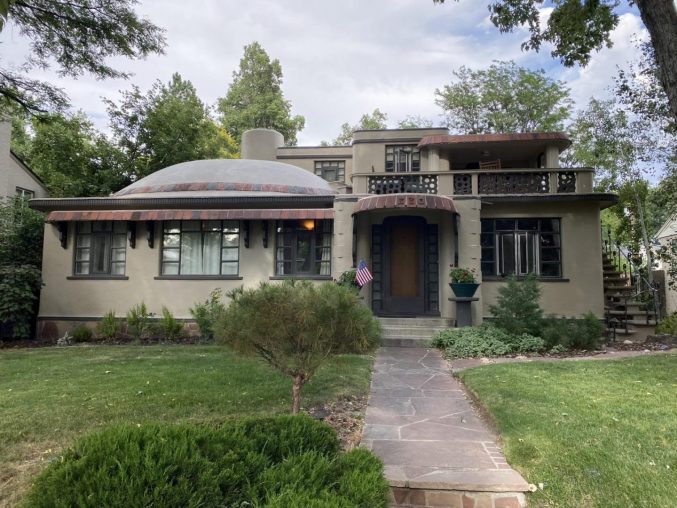 About the tour: Explore the largest and most elaborate example of architect Eugene Groves' residential projects, listed on the National Register of Historic Places. Tour-goers will see the architect's achievements in concrete construction on full display, from concrete kitchen cabinets and built-ins to the ovular concrete dome over the living room. Current homeowners and engineers, Jason Pingenot and Hillary Smith, will highlight the many Groves ideas that were ahead of their time, resulting in an 80-year-old home that is still highly functional for modern-day living.
About the house: The Nordlund House, built in 1938 in the historic Hilltop neighborhood, is the pinnacle of Eugene Groves' achievements in concrete construction. As in his other concrete structures, the Nordlund House utilizes precast and cast-in-place reinforced concrete in lieu of brick and wood. Groves considered every detail in his design, incorporating bookshelves, cabinetry, desks and seating into the home. His trademark ovular concrete dome spans the living room. His thoughtful design optimized space and efficiency but, most importantly, was intended to suit the everyday needs of a family.
About the tour guides: Jason Pingenot and Hillary Smith are the current owners of the Nordlund House and both engineers by training. Jason is a second-generation Denver native, and Hillary hails from Detroit. Since acquiring the home in 2013, it has become a passion project for them and has led to a profound interest in modern architecture and the preservation and restoration of the home.
Accessibility: As these tours are in private residences with interior and exterior stairs, they are not wheelchair accessible.
COVID-19: All attendees will be required to sign a waiver of liability and answer a COVID-19 questionnaire upon arrival.