Members Only: John R. Henderson: Colorado's First Licensed Black Architect
Wednesday, March 2nd, 2022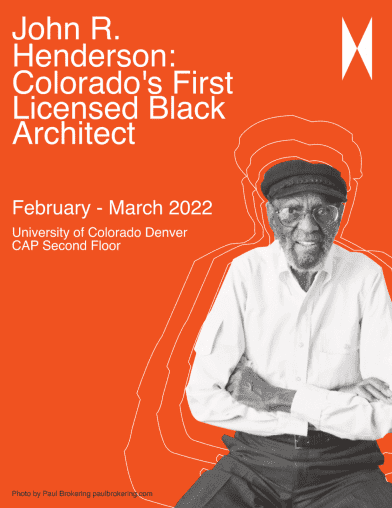 Join DAF for a special members only tour in partnership with the University of Colorado Denver College of Architecture and Planning. Schawn Li, Curator and Research Assistant at University of Colorado Denver, will lead DAF members on a private tour of the John R. Henderson: Colorado's First Licensed Black Architect exhibition. This event is free for DAF members. Space is limited. Membership will be verified upon registration. Become a DAF member here.
About the exhibition: The exhibition commemorates the life and accomplishments of John R. Henderson (1921-2018), the first licensed Black architect in the state of Colorado. Henderson was one of very few Black licensed architects in the United States in the late 1950s. His body of work includes private residences and commercial and institutional projects. Henderson's clients and collaborators included renowned Civil Rights figure Carlotta Walls LaNier and prominent local architecture firms James Sudler Associates and Hornbein & White. The exhibition features a display of architectural drawings, audio recordings and architectural models highlighting important moments and connections in Henderson's life to his ideologies, his identity, his community and his home.
About the tour guide: Schawn (Chi) Li is currently pursuing a master's degree in architecture at the College of Architecture and Planning, CU Denver. Schawn, an avid photographer and designer, believes that innovative, creative artistry impacts and inspires the world. Having lived in Hong Kong, Los Angeles and Denver, Schawn appreciates the unique identity and struggles of each city and society. His personal experience and architectural understanding informed his work in cataloging and organizing Henderson's collection, which illuminates the architect's struggles and recognizes his achievements.
Please note: All attendees (including tour guide and DAF staff) will be required to sign a waiver of liability and answer a COVID-19 questionnaire prior to the in-person tour. All participants must wear a mask on this tour. Click here for more information on DAF's COVID-19 precautions.