Museo de las Américas featuring Rhythm and Ritual: Music of the Ancient Americas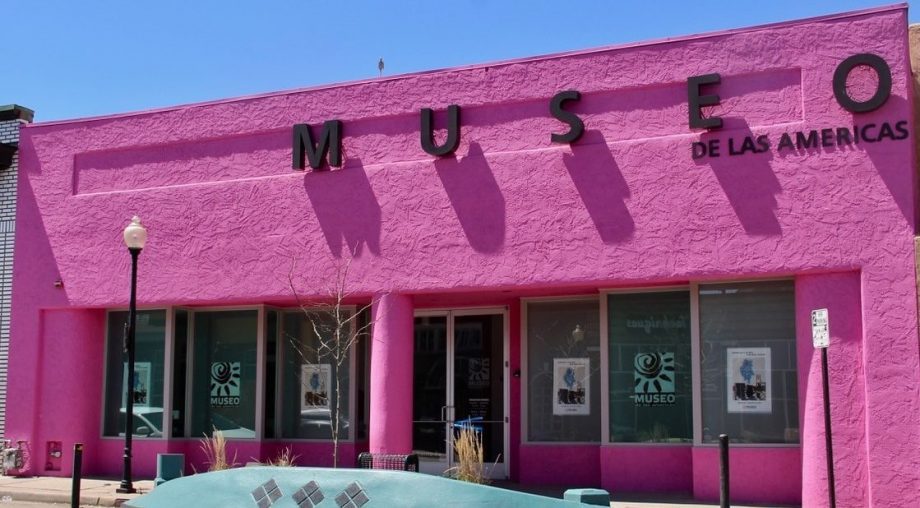 Doors Open Denver: Museo de las Américas featuring Rhythm and Ritual: Music of the Ancient Americas
861 Santa Fe Dr
Tour guides: Claudia Moran, Executive Director, Museo de las Américas and Jared Katz, Mayer Postdoctoral Curatorial Fellow for Art of the Ancient Americas at the Denver Art Museum
About the tour: Explore the Museo's history, permanent exhibitions and collections with Executive Director Claudia Moran. Get a guided tour of their current temporary exhibition Rhythm and Ritual: Music of the Ancient Americas with Curator Jared Katz.
About the exhibit: Imagine you are in a large stone courtyard. The sound of trumpets echoes off the surrounding buildings, and you feel the reverberation of powerful drums in your chest. You and the people surrounding you begin to dance. Now imagine the same situation without music. Your experience would be completely different. Music has the power to alter the way we experience space and how we behave in that space. By analyzing the music of the past, we can better understand the daily and ceremonial lives of ancient people. Rhythm and Ritual: Music of the Ancient Americas provides participants with an overview of the exhibition, as well as a detailed look at some parts of the installation. Learn about music performed by ancient American cultures, find out about behind the scenes aspects of curatorial work, and hear playable 3D printed replicas of the objects on display.
About the tour guides: Claudia Moran-Pichardo was born and raised in Guadalajara, Mexico and moved to Denver in 2002. She holds a Master's Degree in Museum Administration from the University of Colorado Boulder as well as a Bachelor's in Archaeology from the Escuela Nacional de Antropologia e Historia in Mexico City. Her passion for ancient forms of artistic expression along with her desire to support Latinx communities has kept her at Museo de las Américas, where she has served in many capacities, including Director of Education, Director of Operations and now as the organization's Executive Director. Claudia is a Bonfils-Stanton Foundation Livingston Fellow and a Denver Business Journal 40 Under 40 nominee.
Jared Katz, the Mayer Postdoctoral Curatorial Fellow for Art of the Ancient Americas at the Denver Art Museum, is the curator of Rhythm and Ritual, one of the largest exhibitions to date dedicated to music of the ancient Americas. He received his Ph.D. from the University of California, Riverside, with a focus on Mesoamerican Archaeology. His research is focused on the music of ancient Mesoamerican cultures, and in addition to having published numerous articles on this topic, he has developed a methodology to 3D print playable replicas of ancient musical instruments.
VERY IMPORTANT, READ IN FULL: This is a virtual tour. Upon registering for this tour, you will receive an email confirmation of your registration from Eventbrite. Within 24 hours you will receive a confirmation from Denver Architecture Foundation (via Demio) with your unique individual link to the tour. Please check your junk/spam if you don't see this email in your inbox. You will receive reminder emails 24 hours in advance and 1 hour in advance from Denver Architecture Foundation (via Demio), again with your unique individual link to the tour. If you purchase more than one ticket, you must provide names and email addresses for each participant. Demio provides a unique link for each participant to access the tour; the same link cannot be used across multiple participants. Please use a desktop or laptop to view this tour; iPads and phones do not work well with this virtual format.