Tour: Historic Rocky Mountain College of Art + Design Campus – June 18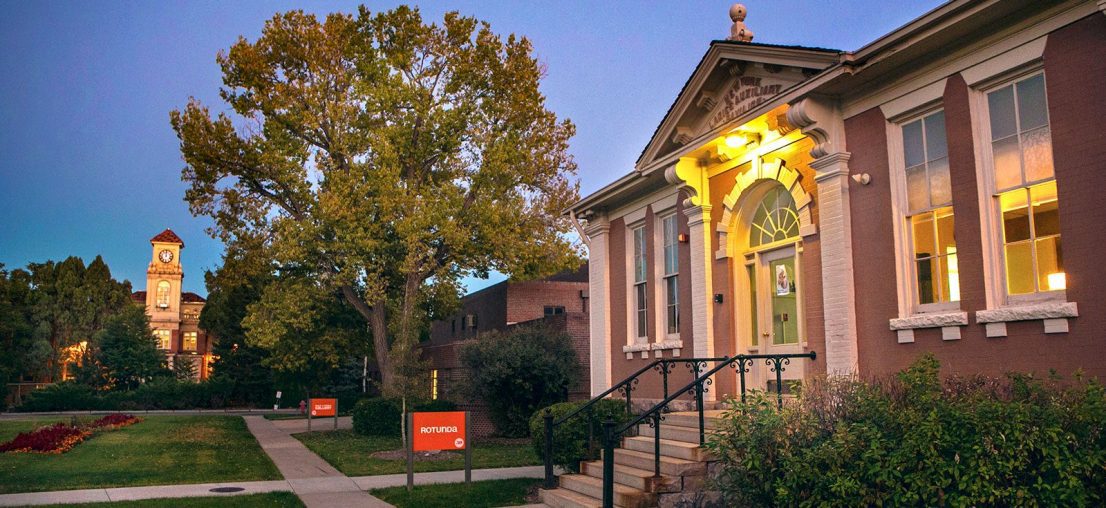 We are touring Rocky Mountain College of Art + Design (RMCAD) on Monday, June 18 from 4:30 to 6:00 PM. Reagan Hendricks, with Facilities/Operations at RMCAD, and Bill Marino, Board Chair with 40 West Arts District, will guide the tour.
About the tour: Located in the heart of 40 West Arts District, Rocky Mountain College of Art + Design is a designated historic district on the National Registry of Historic Places. The tour will not only showcase the remarkable and varied architecture of the campus, built from 1904 through the mid 1950s, but also will share more than a century of history of activities on and around this unique venue—including a vaudevillian stage where Bob Hope once performed, numerous art galleries with exhibits from students and faculty and a peak into the connecting tunnels underneath several of the classic buildings. The tour also includes an optional stop at WestFax Brewing Company, located adjacent to the campus at Lamar Station Plaza (on W. Colfax).
About the site: In the early 1900s the growing Jewish community along West Colfax saw an influx of immigrants from the east coast seeking treatment for tuberculosis in Colorado's dry and sunny climate. In 1903, the Jewish Consumptive Relief Society (JCRS) was established to care for these patients, free of charge, in all stages of the disease with a protocol that included prescriptions for fresh air, sun and wholesome food. Buildings at JCRS started with wooden tents on the land just north of West Colfax between 16th and 17th Avenues and Pierce and Kendall Streets. By 1927, JCRS was a self-sustaining campus and had established its basic architectural organization of buildings around a central axis and lawn. The buildings remain largely unchanged from their 1904-1954 state, and since 2002 have been activated by Rocky Mountain College of Art + Design as a "community for creatives" serving more than 1,000 students both on-campus and on-line.
– Photo and description courtesy Bill Marino. Sources: Images of Early Lakewood, Robert and Kristen Autobee with Lakewood's Heritage Center, Arcadia Publishing, 2011; Denver Public Library, West Colfax Neighborhood History.
Please note, there is free lot parking on the campus, and as always, we encourage the use of public transportation, Lyft or Uber. Thank you.
Check out our events calendar to keep up-to-date with all DAF happenings.